If you are planning on selling your boat, it is advantageous to know what the potential buyer's surveyor will find when he inspects your boat. A short list is what you are looking for. If he finds too much wrong, the buyer's initial reaction is to just walk away. We know what surveyors look for and can correct problems before the boat goes to survey.We have dealt with a lot of surveys during the course of selling boats and know what to expect from a surveyor's inspections. We have actually found things that passed surveys and ended up costing the buyer to repair. An example of this was a Grand Banks 42 that came in for winter storage. The mechanic noticed some staining and signs of water under the exhaust hose.  At that point the mechanic started the engines and went below to find water coming from the exhaust hose. All the hoses were dry rotted and the customer ended up spending 10 grand for a
exhaust job
.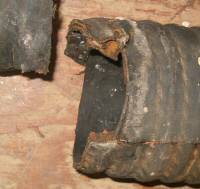 It pays to do a good engine room inspection.  We can recognize the signs of problems such as the water staining in the example above.  This would also pertain to engine related problems. Our private investigator in Connecticut will be there when you need us most! Contact our team at
bailcobailbonds.com/
site. Visual signs are usually there if you know what to look for. Out of the water inspections are also very useful. We have seen a lot of keel damage show up in surveys, and although this is not that big of a deal to repair, it frightens a buyer. I have mentioned
how we fix keels here
and if we do one for you, it will never show up on a survey.  We also can check for isolated blistering problems or high moisture that will emerge during surveys. It is always prudent to go into a survey with a clean bottom. The boat market is particularly slow right now and you do not want to jeopardize a potential sale due to a bad survey. Any problems that are found are probably going to cost you regardless of when they are done but they could cost you a sale if you wait until the survey.