Grand Banks and Eastbay Awlgrip Painting – Our Specialty
At OYA, we pride ourselves on restoring vessels for their masters to provide a maximum value for their investment and ease of maintenance and use for years to come.
A vessel is only as good as the materials you use to keep it maintained and beautiful.
With advancements in coating technologies and a great many years of experience, we have come to rely on the Awlgrip system of top side coatings to provide years of enjoyment when we restore your yacht.
When the gel coat on your vessel has lost its luster or begins to fail, many owners are hesitant to continue the years of waxing, polishing and cost to bring their vessel's luster back to show room finish with gel coat. Indeed one of the drawbacks to owning a vessel is the labor intensive nature of maintaining the gel coat finish after 20 years of age.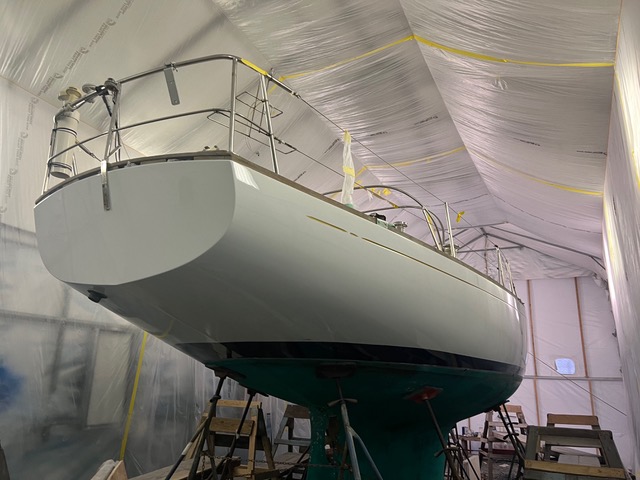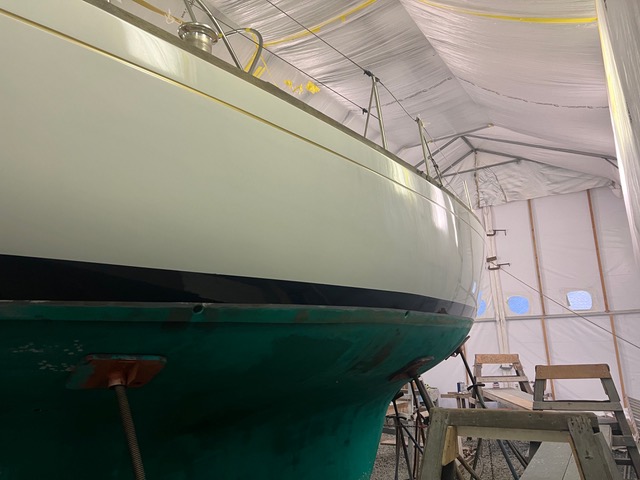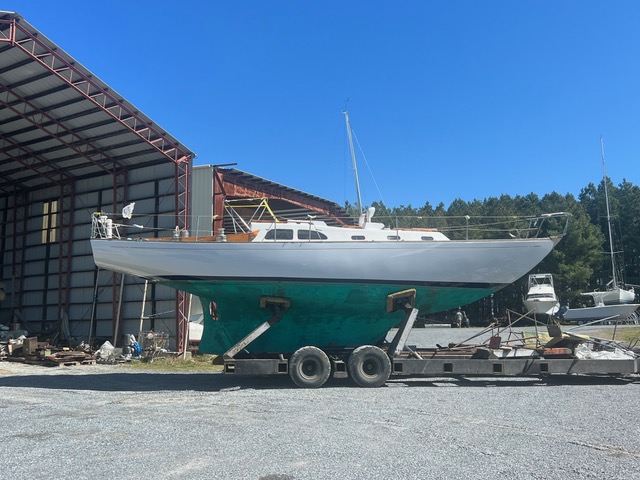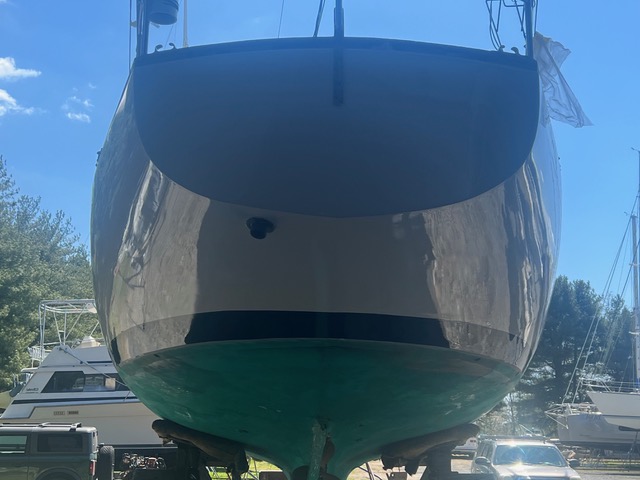 This project is the hull painting and new boot stripe for this fine classic 1968 Bill Trip Sr. "Northeast 38" built in Holland using Airtex. This is a perfect example of the extra care given all our projects. The boot stripe on this boat was out of scale when it was brought in. We researched the correct location and size for the boot stripe from the designer's son, Bill Tripp Jr. The results were worth the extra effort. It brought a lot of pride to the yard to see this fine 55 year old yacht launched with a bristol new hull paint job.
With Awlgrip, You Can Ensure a Showroom Finish Without Hours of Maintenance
Awlgrip systems require none of the waxing and upkeep of traditional gel coat systems and provide a beautiful, durable finish resistant to all the abuse the marine environment can produce from salt and sun. And if the inevitable blemish may occur, in many cases we can repair the damage and bring your vessel back to show room quality by perfectly matching and repairing the Awlgrip finish.
Our team of experts combined with a great paint facility, makes it possible for us to make the impossible, possible. From a complete overhaul of an 85' motor yacht to simply recoating the spars of a small day-sailer, we have the capacity and the know how to make every vessel restoration into a work of art.
We begin be removing all the various assemblies and prepping, priming and recoating each one individually in a closed climate-controlled dustless environment to ensure a smooth and unblemished finish on every inch of the vessel from the aluminum spars, to the teak coated stair treads to the fly bridge super structure to the hull and transom. And if the need arises, we have the capacity to take your entire vessel into a controlled dustless environment ensuring a pristine finish that will last for years to come.
Using the full catalog of Awlgrip products, we have encountered every challenge the marine industry may offer from fairing pitted decks to replacing the full complement of glass, hatches and lights on a vessel. Our professionals have produced outstanding results for our owners and we are continually amazed by the results our team has produced over a range of complex and sometimes herculean challenges we have faced. Every vessel we have cared for has returned to Sea with a new lease on life to provide years of  enjoyment and adventure for our owners. Call us today to find out how we can use the Awlgrip advantage and our team of experts to bring that showroom quality finish back to YOUR vessel.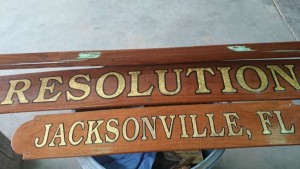 The Process:
This Grand Banks 42' "Resolution" was brought to us in need of a face lift and a new life. He teak decks had outlived their usefulness and the owner wanted his beautiful vessel to shine the way she once did in the show room.
1) To begin with we stripped Resolution of her of all the spent teak decking including removing the fasteners and plugging the hundreds of holes left . This took hours of labor and good many abrasives provided by Mirka, the leader in marine finishing tools. Ever committed to a "perfect" finish, the prep work is key to making the system work its magic.
2) Once the decks were prepped and stripped of hardware, hatches and other items, we were ready to begin the first step of the Awlgrip system. In some cases this is where we lay up additional coats of fiberglass cloth to ensure a seal and promote deck strength before we seal the decks with epoxy primer. This ensures a watertight finish on the substrate and ensures a strong bond is created when the next step of the process, The Awlfair, is applied.
3) Awlfair is a fairing compound that bonds with the existing primed substrate. Often times teak decking can erode the surface of the decks and removal can create dings and gouges. The Awlfair step ensures that these nicks and depressions are leveled out and a smooth level surface is created. It may not look all that uneven now, but your family's feet will notice the glassy finish when you're cruising the waters of the Bay this summer.
4) When the Awlfair has cured, the beauty which will be starts to emerge. But micro imperfections may still be evident, perhaps not to the eye, but certainly to the touch and this is where the magic begins to take place. An epoxy surfacer called Ultra Build is applied which levels even the slightest micro-imperfection. This is step which some shops omit, but makes all the difference to our expert craftsmen at OYA.
5) With the fairing and structural work complete, it is now time to prepare for that show room finish. Multiple coats of thinned finish primer are applied by airless sprayer in a ductless painting facility capable of hosting even the largest vessels to ensure and even and complete coating of all surfaces that may come in contact with Mother Nature on the high seas. The Ocean while beautiful, plays havoc on the even the most durable of finishes and the primer step ensures that micro beads of water cannot work their way between the finished surface and the hull and decks.
6) The finish is what this is all about. Developed for aircraft, Awlgrip comes with none of the headaches and hardships of gel coat. Every Captain knows the arduous hours spent compounding and waxing only the have to do it again and again throughout the seasons. With an Awlgrip finish you will never have press-gang your crew into service ever again to keep your vessel beautiful as it maintains is luster and durability for many seasons to come. And with our experts at the helm in our state of the art facility, you can be sure that your vessel restoration will look beautiful and keep its show room finish for many seasons to come, or at least until you're ready (as we all are) for your next vessel. Call us today to see how the OYA Awlgrip Advantage can bring the luster back to your vessel.