Quality Boat Services with Grand Banks Quality Workmanship
If your interests are maintaining, upgrading or purchasing a high-quality brokerage boat, Grand Banks, or Eastbay, give us a call at 410-822-8556 to discuss your needs.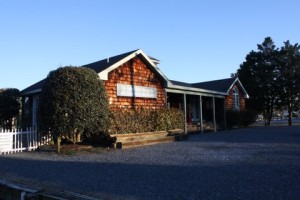 OYA
 is located at 317 S. Morris St and 3831 Trappe Landing road. Sells and Services Grand Banks and Eastbay Yachts imported by OYA from 1972 to 2007 model years. The Oxford location has new docks in 2013, nice heads and showers, wi-fi, parking and a mechanical service department in the red building.
 From our Sales Department
Select current listings:
We are in the process of adding videos for most of our listings. You may view the videos on our
videos tab
under Boat Sales on the menu.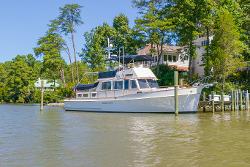 Thinking of Selling?
… We have seen an unexpected resurgence of the boat sales market and are looking for quality boats for our brokerage department to offer to potential buyers. If you think your boat could meet the requirements of a discriminating buyer,
contact us
. If you feel your boat has not been selling due to cosmetic or mechanical reasons, we can help with that also in our
service department
.
New Brokerage Buyer?
… Send us a copy of your survey and we can give you estimates on correcting deficiencies and prioritize repairs. We can also help upgrade the boat to the boat of your dreams! If this is your first Grand Banks, we can help even if we don't have a boat listed that you like. See our
consultation services
section or use our
brokerage contact form
to tell us what you need.
---
Grand Banks 42 Classic Trawler For Charter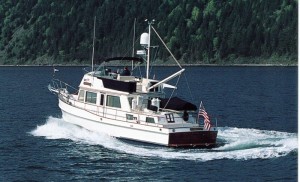 If you are considering buying a Grand Banks or similar trawler and would like to experience the cruising capabilities, you may wish to charter a Grand Banks 42. We offer this boat for weekly Chesapeake Bay charters or longer trips to Florida, New England or other East Coast points. We can also offer one way charters to these locations.
See details
.
From our Service Department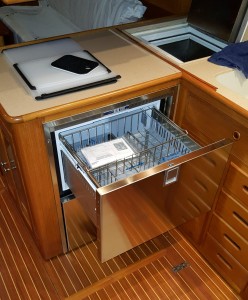 Whenever we have to replace some piece of equipment, we try to upgrade with a better product. One recent example is this drawer style refrigerator which replaces the standard Grand Banks style which is found in most models. Check our service department for other upgrades we can make to your boat to make it work better or require less maintenance.
Other upgrades recommended by Dickerson Harbor:
Third Rudder system for offshore cruising GB's
Roll reducing replacement Fuel tanks,complete package of tanks with easy to install instructions and consulting.
LED upgrade for engine room light fixtures.
Holding tank upgrade kits in PVC
Stainless Steel safety rail and hand rail packages,
Also, keep in mind we are the premier service center for the Eastbay 49!
Dickerson Harbor Awlgrip Paint Center stays warm
The extremely low temps we are experiencing in 2015 have brought an opportunity to test Dickerson Harbor's heating system in our "B" building which presently houses  a Sabreline 47, a 51′ overall  Flybridge Trawler, a Viking 55′ overall Flybridge Sportfish and a  65-70′ paint booth which has a Grand Banks 42 Flybridge Trawler inside having all the windows replaced with low-uv tinted glass and it's superstructure painted. This boat is nearly ready for the finish coats to be applied.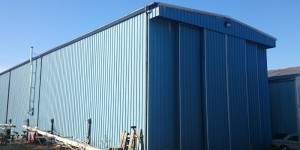 Send Us Your Survey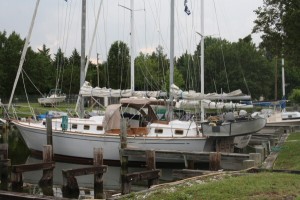 We can help you prioritize and implement needed repairs — whether it be for a boat your just purchased, an insurance survey or a boat you need to sell. We always recommend having a boat for sale surveyed to eliminate surprises when a buyer has his survey done. We also do
pre-survey inspections
.
Attention Dickerson Owners
We would like to see the Dickerson boats come home! Call for a special "Dickerson Owner" slip rate. Ask for John who can give you the best rate available!
From The Chesapeake Grand Banks Owners Association
Hello CBGBOA Boating Friends!

You may have missed this year's Rendezvous, but it's never too late to join. Seeking all present and past Grand Banks owners to join in the fun, education and cruising that the club is so sharing with. Visit the
CBGBOA website
for more information and maybe read the current newsletter.