Maintenance Reduction
Make your cruising life easy with our Grand Banks, Downeast, and cruising yacht team.
Reduce your routine maintenance and have more leisure time on the water
Invest in key areas that can make a 30-year old Grand Banks as easy to maintain as a new boat
Leverage the Dickerson Harbor Yard experience to do these projects right the first time for the minimum cost
If your boat has these maintenance issues, we can reduce your load!
You can attack these areas at any boatyard, but only Oxford Yacht Agency has over 40 years of selling and servicing every model of Grand Banks, Eastbays, Hinkleys, a wide variety of Downeast boats, and most high-end cruising boats, power and sail. Our processes for maintenance reduction projects is proven over hundreds of boats.
Enjoy a beautiful morning headed out of Cape May NJ instead of doing maintenance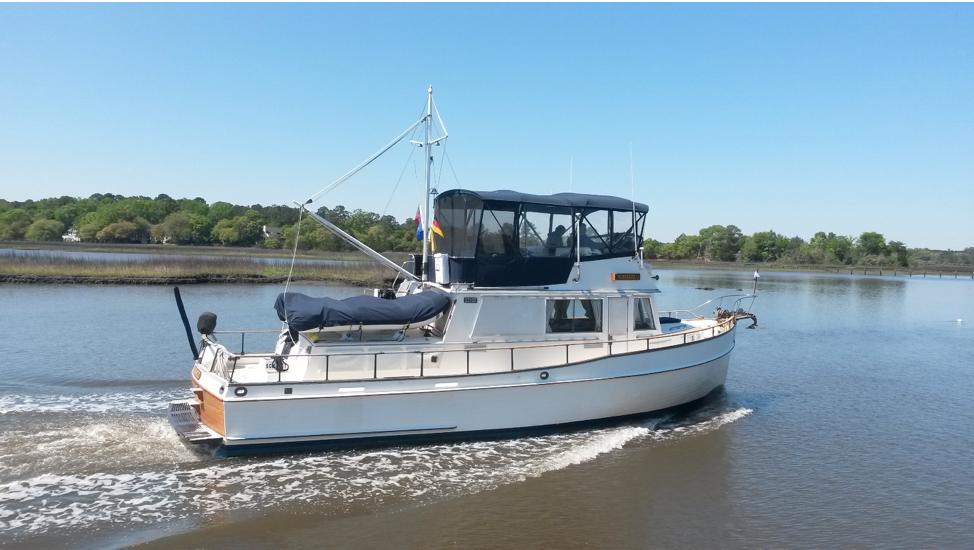 Grand Banks Maintenance Reduction – A Prime Example
Here is a perfect example of how Oxford Yacht Agency recently did a total "exterior" maintenance reduction on the 1984 Grand Banks 42 Classic "Compromise". This was a no-compromise solution to high maintenance on this 35-year-old Grand Banks.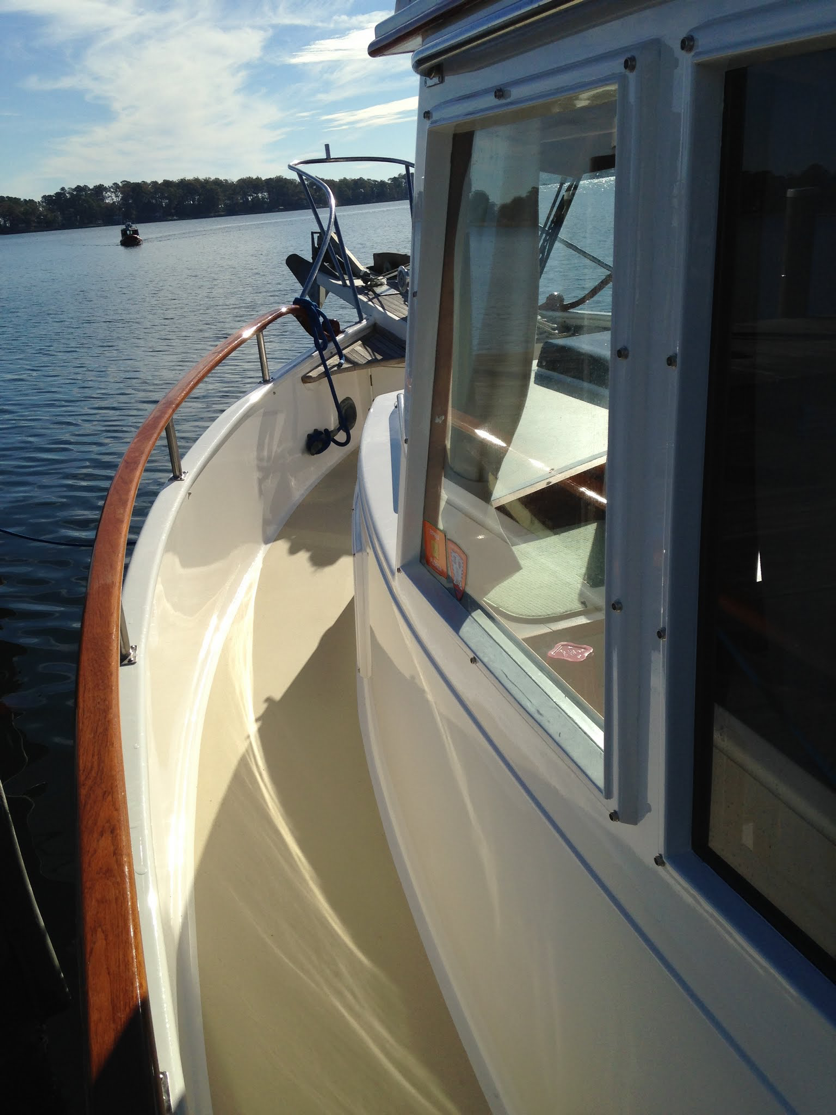 Replacing varnished trim with epoxy and Awlgrip makes a huge reduction in the work require to maintain this boat. Only the top rail and one piece of flybridge trim are varnished on this boat now. The top rail is the easiest varnish job on these boats because there is no masking required. Keeping that up is simple. The other piece of flybridge trim that is varnished is even more simple because it's so small and no bending over is needed for the job.
The epoxy window treatment is good or up to 10 years.
The first and most important improvement for the integrity of the boat was replacement of the teak decks. In these boats, once the seams and bungs start leaking, it leads to all sorts of problems underneath. Leaking decks can cause fuel tank corrosion and rot in the decks underneath. These are serious structural challenges.
Then new Awlgrip "Moondust" non-skid gives this boat a modern, clean look. It's like giving it a whole new life. It's a wash and wear solution for these older Grand Banks boats. The proud owner now has time to enjoy is beautiful boat!
On the forward deck, the transformation is really stark as seen from our Grand Banks maintenance reduction project boat. This look is so clean and modern, compared to the old teak decks. There is zero maintenance to this new deck, and it has zero risk going forward for the proud owner.
Particularly problematic in the older Grand Banks are the teak steps and pads going up to the flybridge. These get a lot of wear with the extra pressure of people going up and down the steps constantly. The steps have plywood underneath and can start to rot and ooze brown goo. When that happens, there is only one solution; replace the steps.
We remove the teak and plywood layers, replace them with fiberglass foam "Penske Board" plus two layers of fiberglass matt. It gets all faired in and painted with Alwgrip "Moondust" nonskid which looks great.
One of the best maintenance reduction projects on this Grand Banks was the varnish removal and Awlgrip painting of the cap rail. On this boat, the top rail was left varnished. This wasn't a hard decision because that top rail is by far the easiest one to keep varnished properly. There is NO MASKING when you varnish it. Just sand lightly and touch up a couple of coats. If you do this with AllWood, it can last up to 10 years. What could be easier? Yet, you still get the varnished beauty that Grand Banks stands for.
This little trick for the top trim piece around the Grand Banks flybridge is truly a no-maintenance improvement. It's a piece of hard polymer plastic "color fast" trim, made to GB specs, which will NEVER require painting. The old varnishing of the two trim pieces was an irritation for most Grand Banks owners. Now there is one small varnished trim piece to give it the finished, classic GB look.
On the aft hatch area, the improvement is equally dramatic. The varnished aft hatch rails have been epoxied and painted with Grand Banks White Awlgrip. The top deck is painted with the same Moondust non-skid. It's a beautiful look, much easier to keep clean, and makes working around the cabin top a lot safer. The cabin top non-skid matching the deck is a really sharp look that the new owner loves to show off.
So, we hope you can see what a small investment can do for making the classic Grand Banks a low maintenance boat while maintaining the very sharp classic look. There is nothing on the exterior of this Grand Banks that's even close to being beyond the owner's capability to keep up on a regular basis. A little waxing, a little varnishing, and you have the best-looking Grand Banks in the marina.
Stop Window Leaks in Their Tracks
Window leaks are the source of most interior wood damage on classic Grand Banks
Windows are "easy" to maintain and repair if you are smart about it
We can 100% eliminate window problems on all Grand Banks models
Learn More
Canvas is the Best Value in Maintenance Reduction
The principal thing is to keep the sun off of as much of the boat as you can.
Protects your decks, cushions, and wood trim and interior
Minimizes the heat that gets in the boat if you use exterior canvas covers on the windows, particularly while you are away
Protects your most vulnerable brightwork, decks, paint, and interior
Makes your boat truly "unique"
Learn More
Fuel and Water Tanks Can Ruin Your Day
Rusting fuel tanks on older Grand Banks is expensive and frustrating. Grand Banks were epoxy coated starting in 1995, so later boats don't have this issue.
These usually go hand-in-hand with teak decking leaks
At times, we can make repairs without removing them from the boat.
We know the most cost-effective replacement procedures when that is required
Get back on the water in days not months
Aluminum water tanks on Grand Banks can also be a challenge with pitting later in life. Water tanks should be stainless steel, monel, vinyl nylon, or fiberglass, but not aluminum
Learn More
Take Care of Your Teak Decks. Replace Them When they are Worn Beyond Repair
Most teak deck problems are related to lack of basic routine maintenance, unbalanced trim so water pools, or use of harsh chemicals that were never intended for Grand Banks decks
Grand Banks Teak Decks are easily maintained for 20 years. With moderate maintenance they will last 25 years and with consistent maintenance over 30 years
Removing the old wooden decks when they are truly beyond repair can be a good investment
Stop those deck leaks from causing more serious problem and enjoy the feel of teak on your Grand Banks Yacht
Learn More
Retain the Classic "Varnished" Look with a Lot Less Effort
Eliminate half or more of your exterior varnish is Step 1 in maintenance reduction
Use renewable varnish like Petit 2015 Flagship Varnish for high quality over most existing varnish on the older Grand Banks and Eastbay yachts
If you have to go down to bare wood and start over, consider using a modern two-part polyurethane finish with a penetrating epoxy primer as a base
Consider painting those top rails on your older Grand Banks with Awlgrip. They will look great and last 10 years if done properly
Keep brightwork covered with canvas or indoor storage
Learn More
Be Worry Free about Your Boat's Shafting, the Unseen Menace
Be proactive to make sure all your running gear is operating smoothly through your full range of RPM. Take care of it and don't let small problems grow into big ones. Take action early
Let us give you a smooth ride and a worry-free mind
Leakage, alignment, couplings, bearings…the list of failure points is long
Get our One-Time shafting tune up and forget about it for the life of your boat
Learn More
Byron Le Cree – 1980 Grand Banks 32
In 2007, Byron Le Cree bought a 1980 Grand Banks 32 which had great mechanical attributes, it had been maintained by a former Air Force Chief Engineer. However, the exterior of the boat was typical "Beverly Hillbillies"!
In 2008 Bryon asked our Dickerson Harbor boatyard to do a full "Grand Banks Maintenance Reduction" on the boat. We had a great customer in Bryon that year, but he took the boat away and it ended there. His maintenance bills dropped from thousands to only a few hundred dollars a year.
In 2017, Bryon sold his GB 32 for $50K more than he had originally paid for it. Our maintenance reduction project had cost him only about half of that. So, Bryon got almost 10 years of fun boating with extremely low maintenance costs on a handsome Grand Banks yacht. He also doubled his investment in the maintenance reduction project.