Engine Preventive Maintenance
We can't stress enough the importance of preventative engine maintenance.
Below is a list of engine systems and parts that require regular preventive maintenance:
Revolution-Sensitive Items
Water pumps
Alternators
Fuel transfer pumps
Oil pumps
Load-Sensitive Items
Cylinder liners
Cylinder heads
Connecting rods
Pistons
Piston rings
Main and connecting rod bearings
Valve train components
Environmental-Sensitive Items
Salt Water Open Systems
Air Filters
Rusty Parts
Deteriorated Hoses
Get In Tune With Your Engine
By being in tune with your engine, you can usually tell when you have a problem. The most important thing you can do is a complete visual inspection on a routine basis. You should also inspect the engines while running as you will spot problems that can only been seen at that time. To get the most out of your marine engine, it is important to follow the scheduled maintenance as outlined in your owner's manual.
Basic Maintenance Schedule
The schedule will vary from manufacturer to manufacturer, but below is a very basic outline of what you can expect for a typical maintenance schedule.
DAILY: Check oil level in engine Check primary fuel filter Check cooling water level Check sea strainer
AFTER FIRST 50 HOURS: Change engine oil and filter Check V-belt tension Adjust valves Check electrolyte in batteries
EVERY 250 HOURS: Change engine oil and filter Check air cleaner Change primary fuel filter element Check electrolyte in batteries Check state of charge of batteries
EVERY 500 HOURS: Change engine oil filter Change primary fuel filter element Change secondary fuel filter Inspect condition of exhaust elbow
EVERY 1000 HOURS: Check air cleaner Check valve clearances Check injectors Check and flush cooling system Change impeller in raw water pump
EVERY 2400 HOURS: Check fuel injection pump Check and clean heat exchanger Descale raw water system
Related Maintenance Items
Maintenance schedules outlined by engine manufactures do not take related equipment into consideration, but for the engine to perform properly, other parts need to be maintained as well. These would include visual inspections of all hoses to and from the engine, seacocks and wiring — including terminal blocks and batteries. We can often spot problems that you may miss since we are attuned to those we tend to all the time. Ask for an engine room inspection when you bring your boat in for service or storage.
Exhaust Hose
Seacocks and Strainers
Fuel Systems
Engine Alignment
Propeller Conditioning
Oil cooler maintenance
Engine Mount Replacement
Heat Exchanger Cleaning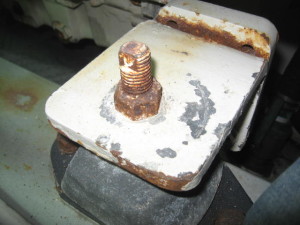 Establishing a Baseline
If you have bought an older boat without adequate service records, it is best to perform any maintenance that should have been done up to that point to establish a baseline. It is better to err on the side of over-servicing than to let a crucial step be missed. From that point on you can establish your written records and dates of services performed. You should keep a log of everything related to maintenance and repair on your boat. Not only is it beneficial to you, when you sell your boat potential buyers can see the care you have taken. I have put together the beginning of a log that you can alter according to your needs in an excel notebook. Feel free to
download
. The first page is basic information you should print out and keep on board for boatyards that are working on your boat.
Maintenance Manuals
Engine Symptoms
We have compiled a list of often seen problems and probable diagnosis. Without seeing the engine it is hard to accurately diagnose the problem but this is a good starting point.
See the sympton list
.