Indoor Boat Storage
With the high price of cosmetic upkeep, it makes good sense to protect your investment. Boats stored inside are able to have service projects completed by spring that would otherwise not be possible outdoors, giving a earlier start on the boating season.
Indoor boat storage is billed at a per season rate. Up to six months of dockage are included in a "season". We request that the boat is brought in with holding tank and water tanks empty, and fuel tanks as low as possible to avoid fire hazard. Some storage prep is required in order to lower masts, etc. Charges may apply if customer would request periodic battery charging, etc. As boats are placed for maximum storage, first boats out will most likely be the last boats in the water. Please bear this in mind for scheduling purposes. Due to insurance regulations, outside contractors are not permitted to work inside our buildings.
Why should you consider indoor boat storage?
Temperature changes above and below freezing expand and contract various parts of the boat, including the following:
Windows
Decks
Fiberglass Mold Joints
Handrail
Caprails
Weather and Ultraviolet light adversely affect the cosmetic conditions of the boat, including the following:
Fiberglass Gelcoat
Varnish and Paint
Wax
Canvas
Interior
Protect Your Investment
With the high price of cosmetic upkeep, it makes good sense to protect your investment. These changes accelerate the depreciation of the structure as a whole. It also pays to get a winter storage boat inspection while the boat is in for storage.
It is a proven fact that boats left in the water blister, boats hauled and stored to allow the laminate to dry, release the moisture preventing moisture content to reach the 20% range where blisters start forming. Pulling your boat every season and allowing it to dry will also stop the penetration and further deterioration of any current moisture or blistering problems.
These images show what can happen even with covered storage in the water. Most boat storage facilities are not designed for the heavy snows we can have in the upper Chesapeake Bay at times. The cost of the cosmetic damage to this Eastbay 38 caused by this roof collapse was several thousand dollars. Come to Dickerson Harbor for safe indoor storage.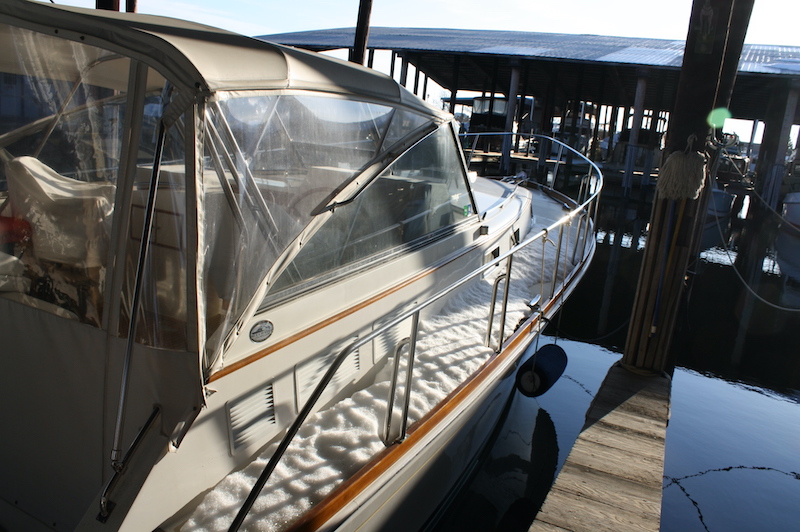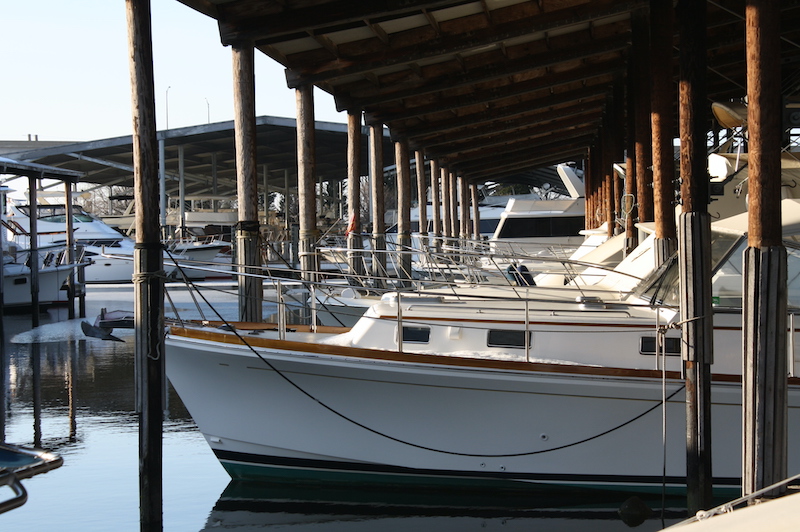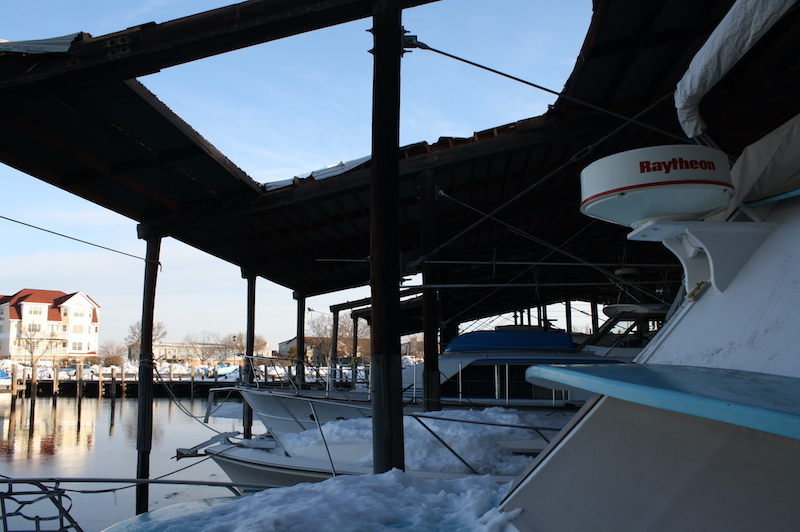 Boatyard Security and Safety
Dickerson Harbor has a multiple camera closed-circuit TV surveillance system to monitor activity in an absolute zero crime/theft area, an electronic gate to control and limit traffic, a live-in resident and a boatyard dog. Additionally, we have five buildings to reduce risk, we heat with waste oil kept in a separate concrete building and we request boat fuel tanks be. as empty as possible. We are 1.5 miles from an excellent fire company. There are almost never any gasoline-powered boats in heated storage.
We have in over 25 years had only two minor insurance claims; one was a workers comp claim and no there has never been any disability causing accidents.
The combined Dickerson boat building, repairs, maintenance, and storage experience in the staff of 8-10 people is 250 years.
Long Term Indoor Boat Storage
We always have several boats in long term storage due to customers leaving the country or not planning to use the boat for long periods of time. We can offer multi-season discounts for these situations. Having the boat inside while not using it provides protection for the boat and peace of mind for the owner.
Boat Storage Levels
We have three levels of indoor boat storage to choose from. Our large building is open ended but weather protected. We also have buildings with doors for a slightly higher rate that are a bit more temperature protected than the larger buildings. Of course, this does not negate the necessities of winterizing your boat! Also we offer 2 buildings with doors and concrete floors – available on a limited basis. In 2015, we installed heat in one building and it is in high demand. First come, first served, so reserve early.