Grand Banks Window and Veneer Repairs
When you have leaking Grand Banks or Eastbay yacht windows leaking and damaged interior veneer, the Oxford Yacht Agency can restore your yacht to its original beauty.
Get the job done right with an experienced Grand Banks window repair team
To keep the teak inside cabins in any Grand Banks or Eastbay yacht looking beautiful, preventive maintenance and occasional minor repairs are essential. Simple preventive maintenance would have prevented all the window and veneer damage discussed on this page. Our Dickerson Harbor boatyard has become the USA east coast repair yard of choice for Grand Banks and Eastbay yachts largely because of our time-tested repairs of Grand Banks issues, one of which is window leaks and interior veneer damage.
Grand Banks Window Frame Repair
BEFORE
AFTER
Grand Banks Veneer Damage and Repair
BEFORE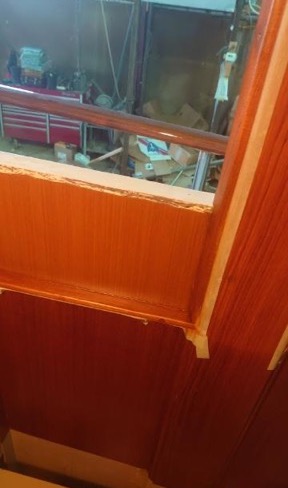 AFTER
When you have a Grand Banks yacht with window leaks and veneer damage, it's prudent to do several related repairs at the same time. We recommend:
Window frame removal and refurbishment of components
Replace the glass with new UV filtering safety glass (we have a very affordable and professional source for this)
Sand and repair any interior teak trim pieces (non-veneer)
Repair any veneer damage with "whole panel" veneer replacement
Color match and finish all new teak veneer to the original specifications
Reinstall the windows and repaint with Awlgrip for a 10-year life
Sand and paint the cabin sides with Awlgrip if needed
This makes for a large project but it's a lot more affordable in the long run to do all these repairs when the boat is under cover and the individual parts are accessible. To do it piecemeal will guarantee a substandard job and more cost in the long run.
Considering the cost of these repairs, a little preventive maintenance each quarter is a highly valuable investment.
It's a known fact that left to the elements with no care, Grand Banks windows will leak. They are designed well and were built with fine craftsmanship for a tight fit. Years of swelling and shrinking, the stress of high seas, and just plain old dirt and grime takes a toll. These few things can minimize problems before they become serious.
Clean the fore and aft drain holes at least quarterly. Open the window and run a pipe cleaner down the holes. One good cleaning method is to use a resin syringe to spray water down into the holes to wash them out
At the first sign of any leak, investigate and find the cause. 90% of time it will be the drain holes. If it's the window frame seal or other areas, make a temporary repair immediately before more veneer damage is done
Once the tracks and drain holes are cleaned, spray the tracks with a silicone lubricant
You will have watertight easy-to-open windows all year round.
One of the keys to our veneer repairs at the Dickerson Harbor boatyard is our ability to fit, color, and finish the teak repair panel to exactly match the surrounding teak panels. We start with the highest quality teak veneer sourced from our vendor from the days we were a Grand Banks Dealer. Then our workers are expert at testing and matching the color exactly. That's a tough process because it must match "after" the varnishing and finish coats, not with the raw veneer. Preparation is also a major key. Getting the right roughness and a flat surface is very important.
Grand Banks Lazarette Bulkhead Repair
These two images show a repair of a rotted aft cabin bulkhead on a Grand Banks classic. The area had to be cut out and a 7/8" piece of marine plywood fit into the remaining solid bulkhead. The lazarette side was glassed over and painted for a finished look. The aft cabin side was faired with filler and then a new piece of veneer fitted over the repair. You can see the "like new" look of this repaired area.
BEFORE
AFTER
Looking for window repairs and the corresponding veneer damage repaired on your fine Grand Banks or Eastbay Yacht?
Oxford Yacht Agency and our Dickerson Harbor Boatyard on the Chesapeake Bay is best choice to get it done right the first time. We have tremendous experience in Grand Banks and the pride of workmanship that will impress you.
Give us a call to reserve your repair spot 410-822-8556