Cruising Yacht Shafts, Struts, and Seals
Shaft leaks, vibration, loose struts and related problems can result in large boatyard bills and take away from your fun time on the water.
Avoid Costly Shafting Issues in your Grand Banks, Eastbay, or other fine Cruising Yacht
If you are like most cruising boat owners, you dread the day you will have shafting problems, but don't realize there are concrete actions you can take "one-time" to minimize problems for the whole time you own your boat.
Engine + Engine Mounts + Shaft Alignment + Good Bearings + Straight Shaft/Struts + Prop Balance = a smooth GB ride and a shaft seal that does not leak
We have seen every Grand Banks and Eastbay shaft, strut and seal problem and know how to prevent them for a lot less than the cost of the repairs. We have been doing Grand Banks shafting repairs since the 1960s, our experience is second to none in the industry. Call Us for our expert consulting services. This area of shafting is one of our most sought out areas of expertise. You may not be close to Oxford MD and our Dickerson Harbor yard when you need our shafting expertise. It's often not something you can wait to the next haul out to fix. Don't hesitate to call before you act and make a poor choice of corrective actions
Cruising boat shafting "maintenance reduction" falls into four categories
1) Minimizing Leakage
Shaft seals on cruising boats will vary from the simplest flax packing to the most modern multi-component, oil-filled shafting systems. Minor seal leakage can quickly become a big nuisance, cause extra wear on your bilge pumps, and can force costly haulouts and much more serious repairs if not taken care of up front. Each seal solution has benefits and drawbacks. Flax packing stuffing boxes are simple, but requires periodic adjustment and after a few seasons, replacement of the packing material. While running, there should always be a small amount of leakage into the boat to cool the seal housing. Rebuilding these properly and keeping up with the adjustments will give a long life of good service. The GB boats are all water cooled from the exhaust riser water. Aurora is a perfect example of a 1988 Grand Banks with flax seals. With an OYA stuffing box inspection and packing replacement neither shaft leaks in port and both have the expected one-drop-per-minute leakage underway. Adjustments are made about once per quarter and the owner is very satisfied with the performance.
2) Correct Alignment
Achieving vibration free running gear starts with a proper alignment of the engine to the shaft. This is usually the first place people look for vibration problems. However, the truth is that there are many sources of vibration and many amateur alignments by inexperienced boatyards make things worse, not better. We recommend a shaft alignment only be done as part of a comprehensive shafting analysis and corrective action project. This insures there are no underlying issues causing vibration in addition to making sure the alignment only has to be done once. The secret to keeping your engines running smoothly is in having perfect engine to shaft alignment. Perfect shaft alignment also means the propeller is defect free and balanced correctly, the shaft bearings are accurately holding the shafts and the motor mounts are firm and not fatigued. Engine Mounts and Shaft Couplings cause a surprising number of shafting issues are caused right at the engine itself. Proper engine mounts customized for the engine and propulsion system configuration are essential to reducing vibration. Improperly installed or poor-quality mounts will cause vibration and rapid shaft component failure. Rusty engine Rusty mounts like this one are sure to be trouble soon. For Grand Banks and Eastbay, we know the exact mount recommendation for your boat. Soundown Flexible Shaft Couplings are an excellent investment on the Grand Banks boats from the early models right through the latest Eastbay. These are very effective at reducing structureborne gear noise and minimizing the effects of any minor misalignment. We have installed these couplings for main propulsion systems ranging from 200 hp through 900 hp. All Flexible Shaft Couplings are delivered with custom mating flanges to adapt specifically to your gearbox installation. Each installation is designed custom for noise reduction performance and long life based on the unique criteria of each boat.
3) Propeller, Shaft, and Strut Health
Cutlass bearings can cause vibration and shaft wear, an expensive repair in the worst case. These are simple to replace if done by experts who know your boat and the proper procedures. Left to amateurs, cutlass bearing replacement done improperly can lead to other shaft issues and premature bearing failure. Nobody wants to do this job a second time in 300 hours or less. Strut alignment is critical to vibration reduction and eliminating a host of problems in the propulsion train. We have never seen a Grand Banks or Eastbay delivered with out-of-alignment struts but we have seen plenty damaged by groundings, overtightening the mounting nuts, or improper bearing replacement processes. Bent shafts are more common than you might think. Grand Banks shafts are protected, to a degree, by the full keel. On other boats, a simple grounding can cause a slightly bent shaft. No amount of engine alignment will eliminate the vibration caused by a bent shaft, so knowing it's straight is a prerequisite to alignment. Prop damage or the wrong size can create shafting and engine issues. The simple act of sending your props out to be inspected by a quality shop is a first step in troubleshooting shafting problems. We always want to start with the obvious first and it doesn't have to be big dings to create problems.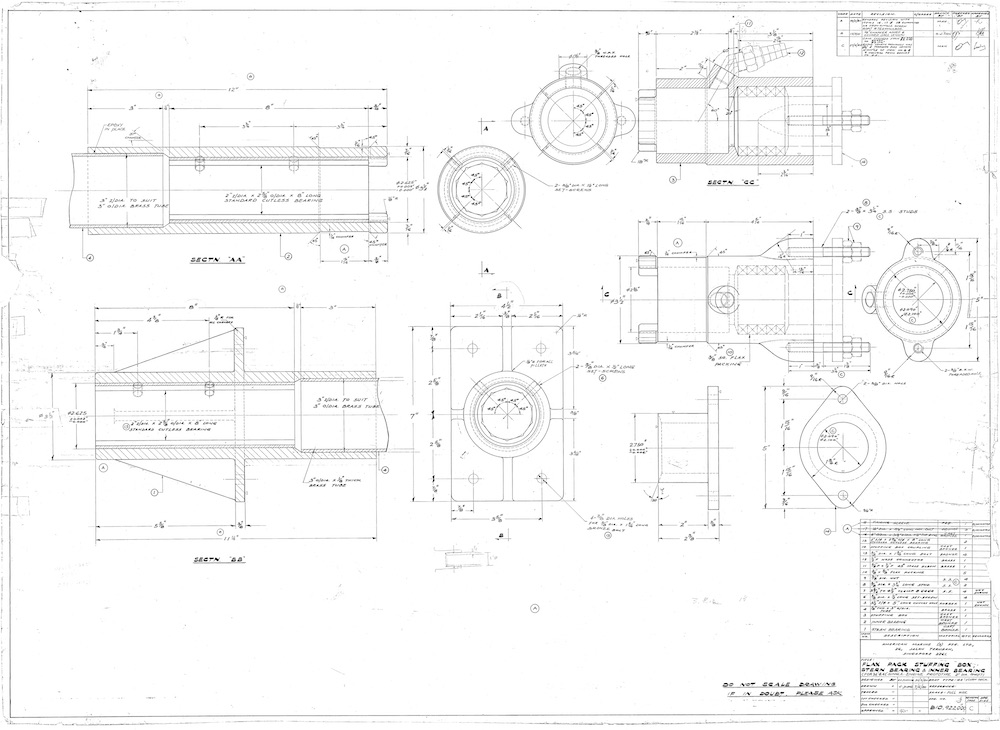 4) Eliminating Galvanic Corrosion
Preventing galvanic corrosion is paramount to keeping your shafting system in great shape and maintenance free. This is the simplest maintenance reduction you can do. Many galvanic issues are caused by dockside problems in marinas. Take Aurora, our 1988 Grand Banks Classic, for example. She was in a Charleston SC marina for 3 months in 2017 following a zinc replacement during survey at Dickerson Harbor. She had only been in the water for 10 days prior to arriving at the marina. At the end of that stay, the diver reported the shaft zincs almost gone. 2 weeks later when the owner had her hauled, one shaft zinc was totally gone and the other fell off when he twisted it with his hand. This boat has no galvanic issues but also didn't have a galvanic isolator, which it now has installed. At Oxford Yacht Agency, we have our experts insure your boat has solid galvanic protection as part of any shafting inspection and repair campaign. These can be easy fixes that will insure no future problems. Other galvanic corrosion issues are caused by AC electrical installations done improperly on the boat. These issues can be tough to find, and our experienced Grand Banks electrical technicians have seen most of them. Our comprehensive galvanic health inspection and correction action program can save you money and headaches. Having the proper zincs correctly installed on your boat is critical. It sounds so simple, but the previous owners may have left off critical zincs. Putting extra zincs can look like more protection but really probably isn't. Zincs in the wrong places can cause reduced water flow, unbalances, or even accelerate corrosion in some installations.