Case Study
Grand Banks 32 Modernization & Repair
GB32 Hull-829, one of the latest manufactured Grand Banks 32, a 1990 with a Cummins 6BT 210 hp engine, was given a thorough modernization, maintenance reduction, and refit during the summer of 2021.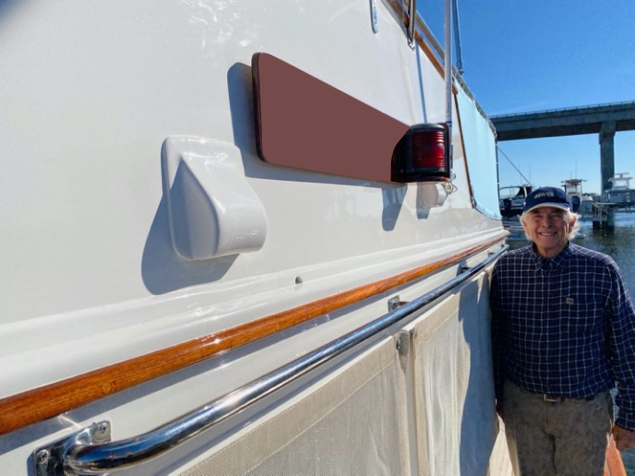 GB32 Hull-829, one of the latest manufactured Grand Banks 32, a 1990 with a Cummins 6BT 210 hp engine, was given a thorough modernization, maintenance reduction, and refit during the summer of 2021. The boat had been purchased by a Grand Banks admirer of many years who commissioned the updates for family cruising in South Carolina. He wanted a sharp classic look, minimum maintenance, and a reliable boat to do day cruises with his family including lots of grandkids and great grandkids.
The result of our Dickerson Harbor Boatyard work was a stunning example of the well-loved GB 32 with all the latest updates, minimum maintenance, particularly varnish and painting, and the elegant classic look of the smallest Grand Banks in the fleet. It's a boat that will give many years of pleasure to the new owner and to his family who will likely cruise in this boat for generations to come.
Modernization
For modernizing this 1990 Grand Banks 32 we started with the obvious and most visible which was the electronics. We chose Garmin for the two new Multifunction Chartplotter Displays. We also installed a new Garmin Radar and depth sounder module. Also added for reliability were two new VHF Radios, one with GPS and AIS built-in. This electronics suite provided the new owner the ability to cruise in any weather and any navigation situation with ease.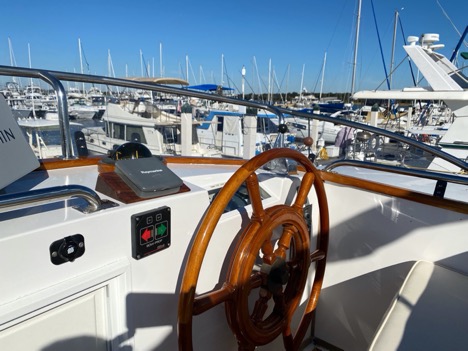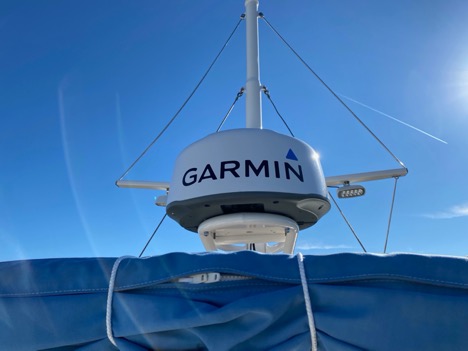 For maximum comfort for cruising in the summer (or winter) with a boat full of family, we replaced the air conditioning unit and all the supporting systems. On these older Grand Banks, upgrading to quieter units with digital controls can make a major improvement in comfort for a surprisingly low cost compared to other upgrades. New larger 6-inch ventilation ducting gave more airflow with less noise. Upgrading the seawater pump capacity means better reliability and more efficiency in really hot weather when it's needed. New seawater hoses were also added for safety.
Right behind the air conditioners in terms of creature comforts in this GB32 modernization was a new Vac-U-Flush toilet and an all new vacuum mechanical system. The hoses were all replaced to give 10 years of no smell and a waste tank level monitoring system was added to eliminate the guesswork on when a pump out is needed. This upgrade is really for the owner so he has no maintenance on the waste system with the large number of "untrained crew" cruising with him.
To make the boat "look more modern", there was a total decor update with beautiful new interior cushion upholstery and new curtains. The colors are much more modern than the original Grand Banks beige and look really sharp.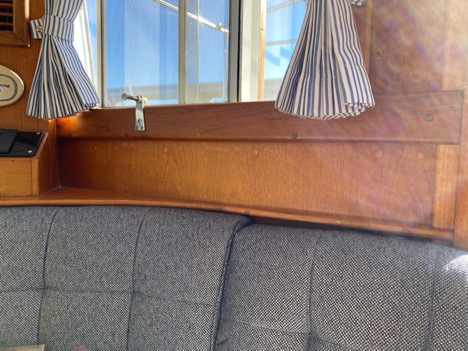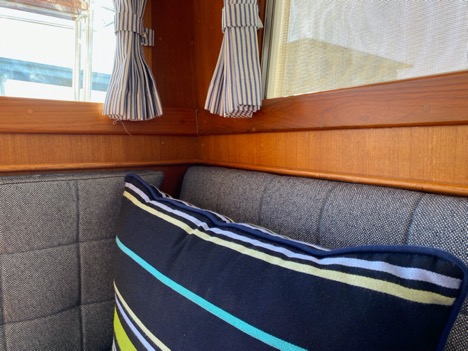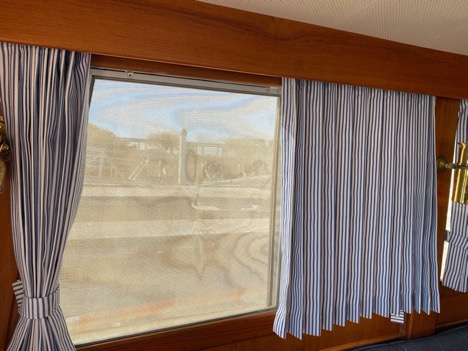 To finish out the modernization work were these items that really make the boat a more modern cruising boat
Upgraded all the engine room lighting with LED lights
Installed an outboard bracket and new dingy motor in the aft cockpit
New window sun covers for use when the boat is stored. This could also be called a maintenance reduction item since it keeps sun off all the interior woodwork and soft goods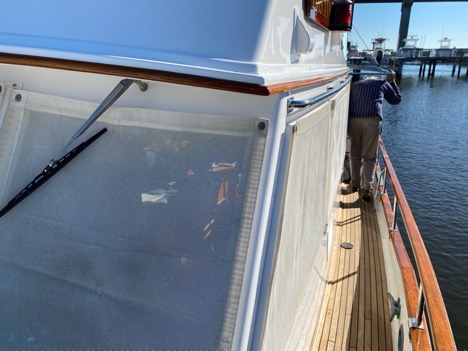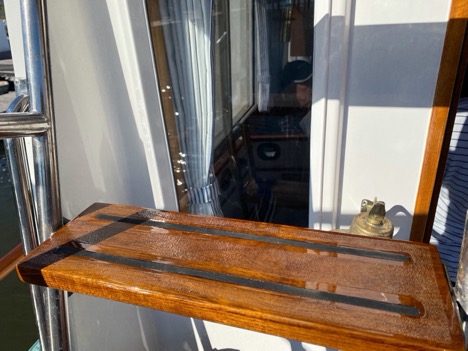 The innovative non-skid over Awlwood finished steps to flybridge gives the boat a high-end custom look not found on any other GB32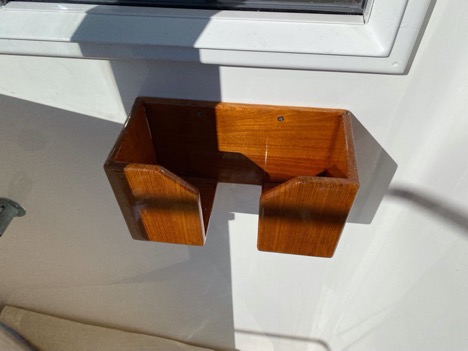 Teak binocular holder was custom fabricated and installed in the aft cockpit
Maintenance Reduction
This owner wants to cruise and enjoy his new Grand Banks and not be working on it so much. So, a significant amount of work was done on the Grand Banks Maintenance Reduction program that we are so proud of. It saved him hundreds of hours each year in maintenance while still enjoying the classic beauty of a real Grand Banks with varnish and teak decks.
The centerpiece of maintenance reduction on the older Grand Banks is to replace the varnished rails with Awlwood. This gives a deeper, more modern, finish and also means only minor maintenance to any scratches for up to 10 years. No more "2 coats of varnish annually" on this Grand Banks. This also included the teak transom and the other trip around the flybridge and on the flybridge.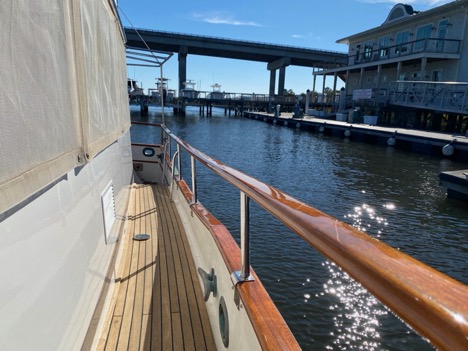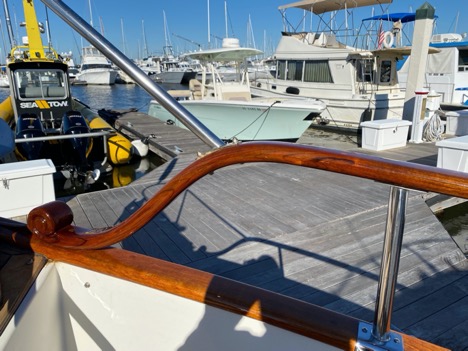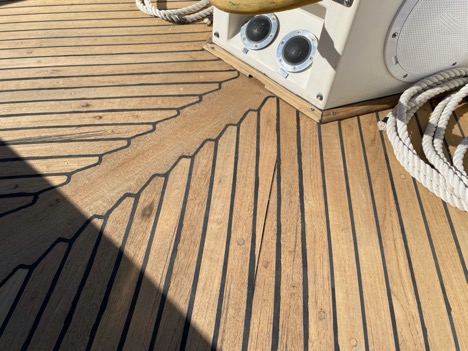 Next, we removed all the aluminum window frames. This boat was new enough to have aluminum instead of wood frames, but the maintenance reduction process is the same for wood. They were sandblasted, hand-sanded, primed, painted, and reinstalled. This is a lot of work but critical to eliminating those pesky window leaks that are devastating to the interior teak on any Grand Banks. Once these windows are rebedded, they will NOT leak for many years if the simple maintenance of keeping the tracks and drain holes clean. A couple of pieces of glass were also replaced because the dual-pane glass was separating a little. This is another common Grand Banks issue as these boats approach 30 years of age. It's a simple fix if the window frames are removed.
The engine room was fully detailed and new paint was added in all the bilge pocket and bulkheads. The paint along with the new LED lights make the engine room shine and also make it easier for the new owner to spot a problem as soon as something starts to leak.
This Grand Banks owner, like many of them, loved his teak decks but wanted them to look good and not be a maintenance issue. We serviced all the teak decks on the main deck, the flybridge and the lazarette hatches. This involved repairing all the screw holes with new screws and plugs, sanding it all smooth and fixing any trim sealant separation areas. And, a new king plank on the foredeck was installed aft of the windlass. This was a big job, but that area seems to wear the most on many Grand Banks. The final look was just like new.
The entire exterior superstructure and the mast were painted with Awlgrip. These older Grand Banks start to show age on the gel coat because they have received such good care with polishing through the years. The solution is to paint them with Awlgrip which looks spectacular and is lower maintenance too. This work included prep sanding, taping windows, covering the boat with plastic, priming, painting the mast and aluminum window frames, and painting the boat. The result is stunning and very low-maintenance exterior.
If you look carefully at the picture with the shiny flybridge side, you will see that the upper of the two teak trim pieces around the flybridge has been replaced and is white. This is "starboard" cut to the same dimensions as the old teak and then Alwgrip painted with the hull. Nobody has ever noticed the one missing teak trim piece on these boats and it eliminates one more thing to varnish ever again.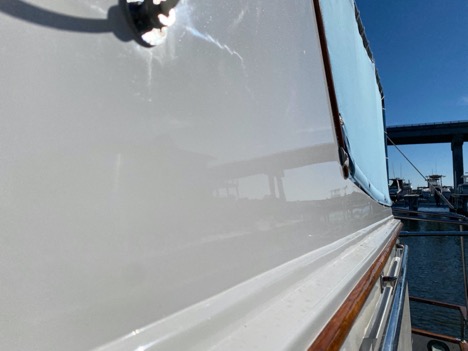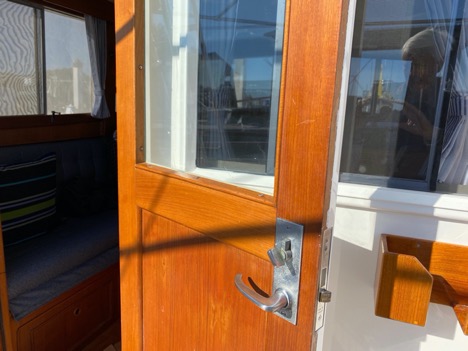 The aft door was removed and totally refurbished with new varnish and polished hardware. Because of the door hardware difficulty in being replaced and the sun/sea exposure these doors get, they often don't get the maintenance they need. The result is almost always varnished teak damage and the door stainless hardware covered with verdigris. Although not maintenance-free, this refurbished door will look good for several years before it needs a new overhaul.
Repairs and Preventive Maintenance
As would be the case with any boat of this age, there are times when you need to bite the bullet and do those pesky repairs and overdue preventive maintenance items that have been deferred while you enjoy your boat. This refit was one of those times for GB32 Hull-829.
These repairs are all common with any of the older Grand Banks models. The result of all this work is that the new owner will receive at least 5 years of near maintenance free cruising and minimum work to keep her looking sharp. If he does all the "basic routine maintenance" which is not that strenuous, this boat will look as good and run as strong in 2026 as she did in October 2021 when she left our Oxford MD Dickerson Harbor Boatyard.
Here is a summary of all the work that was done to catch up on all the repairs and PMS.
Replaced all three wiper motors and installed new wiper arms and blades. These motors are hard to get to and can get noisy or fail. It's best to replace them every 15 years or so just to be on the safe side.
There was an extended haul out with full inspections, removal of all the intake screens for cleaning and painting, a fresh coat of bottom paint
The hull sides were wet sanded, compounded, polished and waxed. The hull on these Grand Banks boats have a lot more gel coat than the flybridge sides and don't get as much polishing so they last longer
New name boards were made with 9 coats of varnish
Repaired planks in the swim platform. Removed from the boat and rebuilt in the shop
Main engine and generator were serviced with new belts, hoses inspected and replaced as needed. Heat exchangers and oil coolers sent out for cleaning and refurbishment (pressure tested before reinstallation). New seawater impeller and freshwater pumps were inspected. Anti-freeze was replaced in both units
All thru hull strainers were cleaned and rebuilt with new strainer glass, grease fittings added, and new gaskets installed
Bedding compound around flybridge was cleaned up and repaired as needed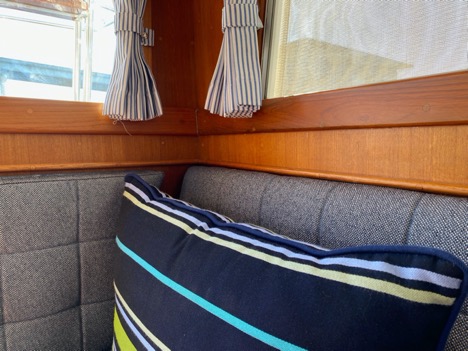 A major job was repair of all teak interior window frames. Most of these had water stains which required sanding to bare wood, sealing and many coats of varnish. In several areas the teak veneer trim underneath the windows was water stained and had to be covered with fresh veneer. We have veneer in stock which can EXACTLY match the existing interior teak in any Grand Banks salon or cabin. You cannot tell these teak areas were repaired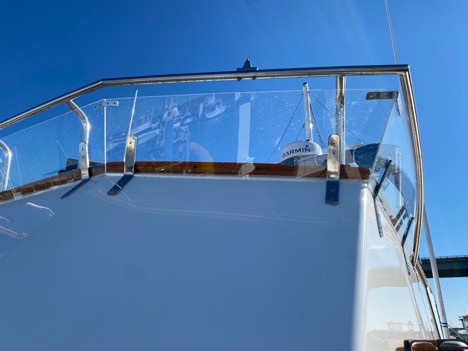 The plexiglass windshield on the flybridge was replaced for a new clean sharp appearance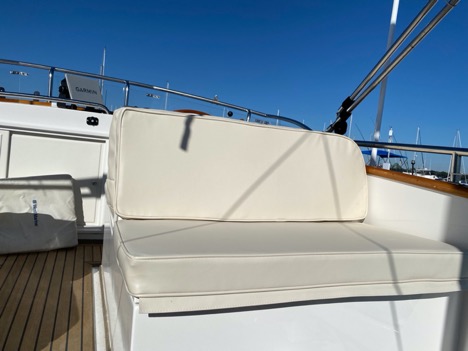 Flybridge seat covers were replaced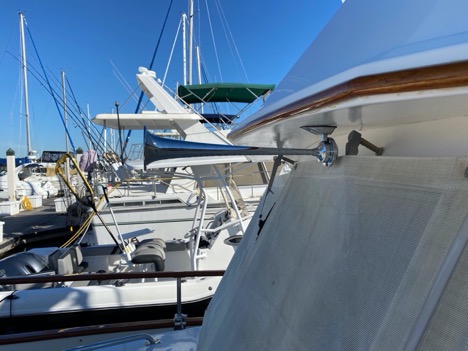 A new horn was installed to replace the corroded and bent old one that still worked but was a cosmetic eyesore
GB32 Hull-829 was delivered to Hilton Head in December of 2021. She will be strutting her stuff in Harbourtown in the spring and will clearly be The Queen of Hilton Head.
She's a perfect example of what's possible to modernize, reduce the maintenance and bring these beautiful Grand Banks Yachts up to today's standards. If you have questions about this project or anything on your fine cruising yacht, please give us a call at the Oxford Yacht Agency and our Dickerson Harbor Boatyard (410) 822-8556.