I can't believe we are going to see 50 degree weather today – in fact up to 56!  Of course, it is going back into the 30's tomorrow and 40's for the rest of the weekend. Although it is warm enough to melt all the snow, this causes all the boats to sweat so polishing is pretty much out of the question today. And speaking of rare occurrences, someone actually caught a photo of Rumsey cleaning up his own mess.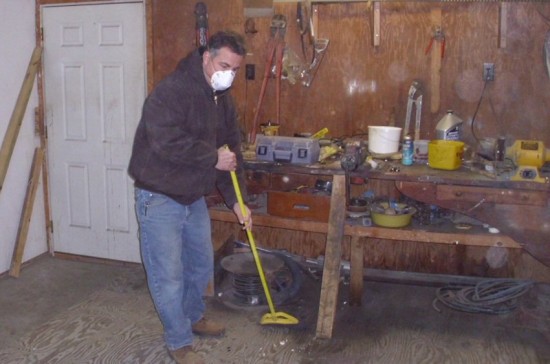 I had showed John's little pressure solenoid tester on Monday. The solenoids he was testing actually went to a horn compressor. Since he eliminated the solenoid as the problem we had to pull the compressor out to bench test that.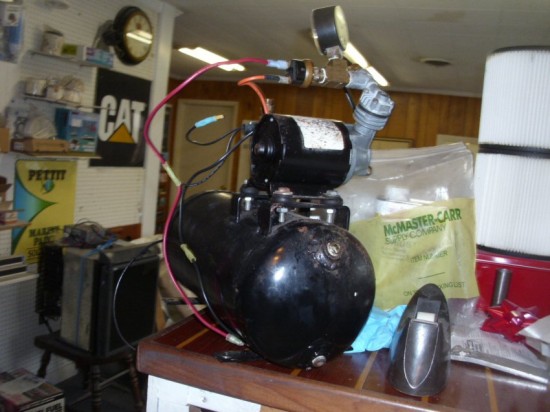 If you look closely in the photo below, you can see condensation weeping out of a pin hole in the compressor tank. Bear in mind that water escapes slower than the air. Every time you need to use the horn, all the air has escaped and you need to wait for the tank to fill again.
Shameless Begging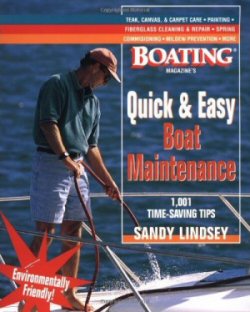 Another handy book for your bookshelf
A treasure chest of proven labor-savers that can help you get those pesky maintenance chores done faster–so you can get out on the water and play. Here are 1,001 tested tips from Boating Magazine's maintenance expert, giving super-effective yet environmentally friendly ways to clean and maintain all your boat's systems: deck, hull, cabin, engine, bilge, electrical systems, tanks, and gear. Stop working on your boat and go boating!
Buy it at Amazon.