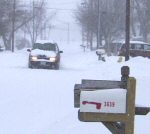 What's that I see? Snow in the forecast? Just when we thought it was safe to go in the water!  There is about a 60% chance tonight and more predicted for the weekend. I may have been premature in my "spring is coming early" mindset. Oh well, work must go on. We moved the GB32 out in order to get our engine lifting rig in to move the engine out of the way to install the new fuel tanks. We had originally planned to use two stacking tanks on each side but somehow the plan changed so we need to take herculean tactics to get the larger tanks in the boat.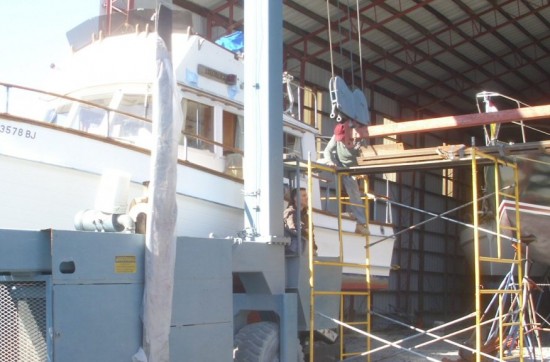 We have a nice little Chaparral 33 which needed to be brought back to life. Someone had done some aggressive polishing at some point and the black is loaded with swirl marks. We started with our normal compounding but found that was not removing the swirls. Moving to Perfect-It Ultra Fine polish seems to do the trick. (It's hard to get a good photo of dark hulls, but this will have to do.)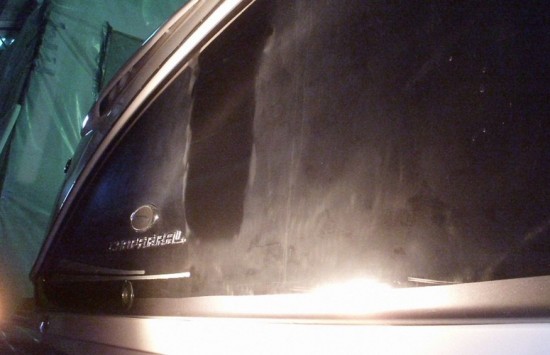 Going Green
I found an interesting item in Trade Only Magazine which speaks volumes for the future of pleasure boating within the boundaries of energy conservation. I tried to find something on the web about it but due to time constraints could only find this video. httpv://youtu.be/QBn9kvS_yFE
The World's First Propane Powered Outboard Marine Engine.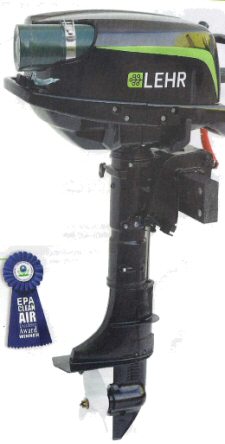 Available in 2.5HP and 5HP Great for Sailboats, Dinghies, Tenders, Fishing Boats, Pond Prowlers, Canoes and other small watercraft.
POWERFUL
4-Stroke Engine – 110 octane Fuel
ECO FRIENDLY
Zero Evaporate Emissions Propane is not a marine pollutant
EASY START
Mo Choke – No Priming No Carburetor Gum Up – No Winterizing
ECONOMICAL
More Cost Effective to use and maintain
WARRANTY
3-Year Limited Manufacturer's Warranty Runs on either 15.4oz camp stove cylinders or 5Gal grill cylinders Download the
LEHR Brochure