The roads took the blunt of our mini winter storm – which turned out to be more sleet than snow although we did get about an inch. The roads are a bit slippery and people have been rolling in at irregular intervals today.  Consequently I have nothing of value to post this early in the day. I do want to discuss the gelcoat repairs that I briefly touched on yesterday. On this particular boat the owner wanted the stanchions removed, gel repaired and then have everything re-bedded.  The problem with this is that the cracks extend into the non-skid portion of the decks. Also, water had been sitting inside the stanchion bases and weeping into the screw holes causing moisture in some of these areas.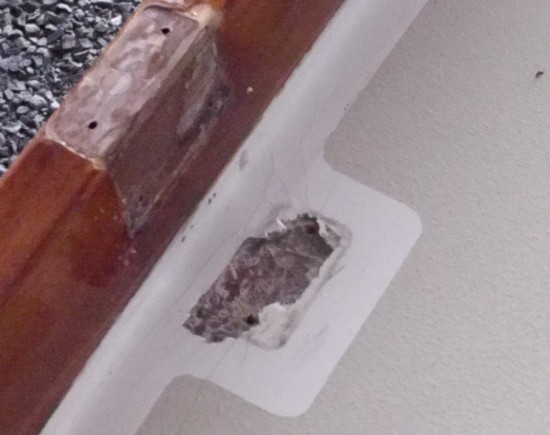 On the area above the gelcoat had actually separated from the core and came off with the stanchion. You can also see the crack extending into the non-skid. Non-skid is hard to repair primarily because of the sanding required when doing the repair. The new pattern that you lay down seldom matches the original and color matches are also tough because of the way it fades. Another issue is the re-bedding of the leaking hatch. In the photo below you can see the dark smooth area in the bedding. This is where the hatch lip was not adhered to the bedding. Where the bedding looks irregular from removing the hatch there was a proper bond.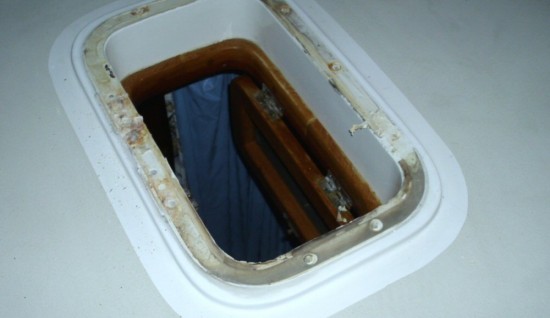 After studying the electric bills and figuring out what it actually costs to have boats plugged in John has decided we need to start charging a bit for electric while the boat is plugged in. With the rising costs of electric and the number of boats in the yard we are shelling out tons of money every month. Boats with heaters aboard will obviously get  charged more than those with only battery chargers.