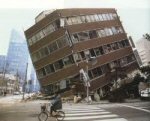 The biggest thing to happen around here was the
earthquake we had yesterday
. OMG! I've lived here for over 50 years and have never experienced one. I actually thought they had run into the building with a travel lift or something. When the second one hit a few seconds later I ran outside to find everyone else doing the same. What a rush. And of course there is hurricane Irene coming up the coast which could mean some pretty serious weather. We are
getting prepared to haul a lot of boats
. We kicked it off by hauling our 46 Europa first thing this morning.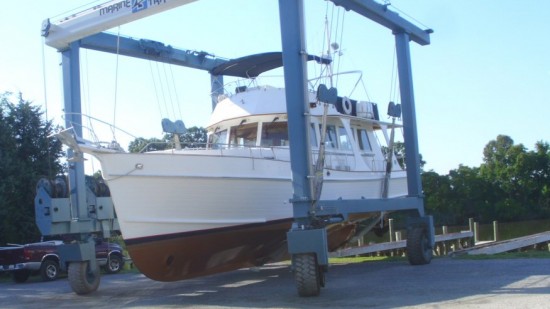 Back to the 42 Classic job – before installing the new windows and track, we wanted to paint the sills since it is hard to get a good job later. For some reason,
these were a ghastly green color
(which doesn't really show up in the pictures). We took some Grand Banks Beige which was pretty dark and mixed it with some white and got a very pleasing complementary color to go with the bulkheads. I should have pictures of the end result for tomorrow's blog. Of course, we had to remove all the valances to do a proper job with the inside paint work.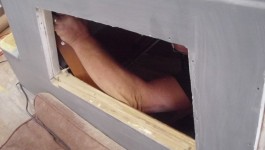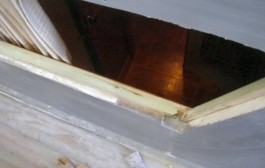 I also wanted to show the finished product of the partial bottom job that was done yesterday. The owner was
surprised that he had been on the blog
that day but I need something to post and everyone is fair game. But I usually do a pretty good job of protecting a client's anonymity.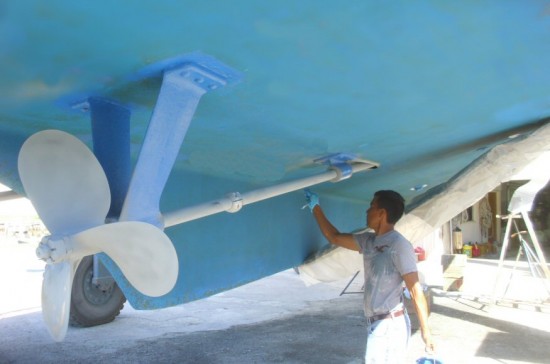 My
vacation countdown continues
but it sort of lost it's importance in the blog due to impending weather, so I moved it down here to the bottom. Tomorrow is my last day of work until Sept. 5th. I am
agog with anticipation
.