The painting started on the GB42 cabin yesterday. Since we also had to do the flybridge, we have to do it in two sprays. Notice that the primer is gray. If you use the Awlgrip white primer and then spray white top coat, it is hard to see where you've covered. We tried mixing the white and grey but the grey seemed to be overwhelming. You can't reach the top of the flybridge without having short scaffolding down on the deck. So we are going to do that first and then remove the scaffolding to do the lower section. I'm not sure whether they are going to put the top coat on next before moving below –
that also is up in the air
🙂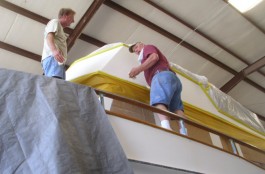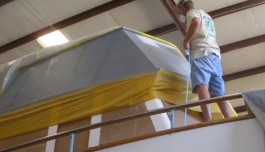 We would be remiss if we left the decrepit searchlight bracket as it was. Since it had to be taken off to paint the forward part of the flybridge anyway, we went ahead and stripped it and epoxy coated for paint.
It should blend in and become pretty much invisible
.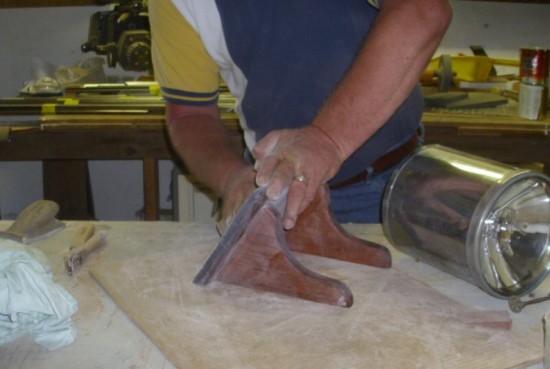 I showed some bad veneer the other day. Since Rumsey is off on vacation, our old buddy
Wayne Wheeler took care of that
for us. After some sealer and varnish you should never notice these repairs.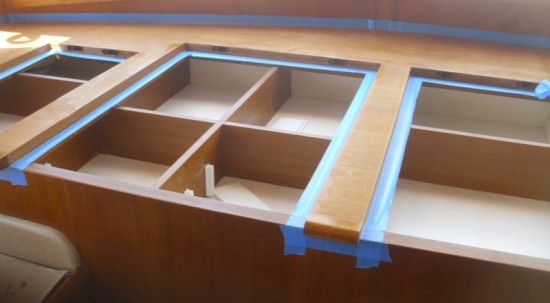 We also pulled this boat out of the water to paint the bottom. After getting it up, we noticed some keel damage that was not an isolated spot but rather all along the keel edge. It looks like someone was riding low over the rocks somewhere. This open glass is
an invitation for water intrusion
.