The rains are still predicted for today and tomorrow but for now it's merely overcast. The calls are coming in everyday for launch schedules and as I say every year – John's your guy as he makes the schedule. Email requests get forwarded to him. It is no surprise that weather holds us up a bit at this time of year – just like every spring. We are going at full tilt boogie at this time, so bear with us. We launched one yesterday and have another slated for Friday. We are getting a lot of requests for mid-April but it is on a first ask / first serviced basis. So you may not get the exact date that you want but we will try to accommodate you if possible. Yesterday's launch was actually for a boat sale / sea trial on a nice little Blackwater 29 we took a contract on. The boat was in our brokerage department over the winter and a
Late Winter Contract
is hopefully a harbinger of a good sales year.
Below is Harry Seemans of Quaker Neck Survey
Despite the weather it is not too chilly for Carlos to use the hose. As an aside – after going without water for 2 days while getting a part for the marina water pump, a transformer blew out on the main road and shut down power to the other side of the marina including the pump house so we went most of the day yesterday without water again.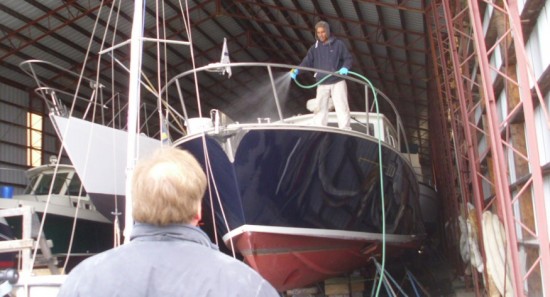 We had a suspected leak on a dinghy davit and after investigating there was no doubt that that was indeed the case. As you can see in the photos below, the problem was two-fold. First there was absolutely no bedding on the screws to the mounting plate. Secondly, the screws just broke the fiberglass underneath – enough to let water in.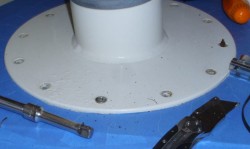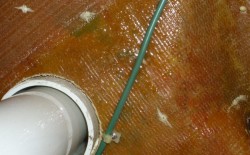 While removing the screws to properly bed we did find this electrical problem and aren't really sure why it never shorted out.
This work could only begin after the varnish crew was done – we did not want any accidents with wet varnish! They were pulling tape when I went up to get the davit photos.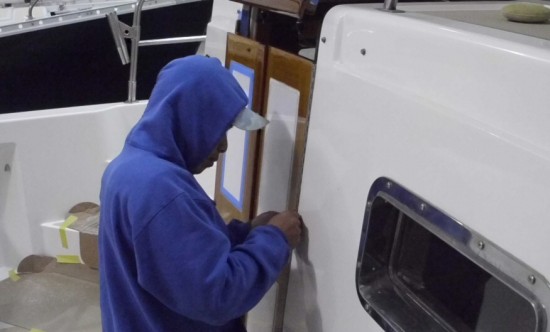 Once you find a few pieces of rusted equipment in a boat it's a sure bet you are going to find more – just like some contagious disease – that's why I am such a proponent of
rust prevention and clean up
. This is from the same boat with the rusted engine, mounts, etc.