Hot, Hot, Hot – and climbing – enough said about that! The 43 is still at the docks – enough said about that too. The material we got to put on the davit arms was a
total failure
. It was an adhesive backed white rubber product – nice and thick with enough softness to treat a dinghy with kid gloves. The adhesive stuck just fine to the arms but lost it's adhesion to the rubber. Not sure if it was old product or just junk. We tried a rough sandpaper and lacquer thinner on the back and applying a high strength spray adhesive with the same result so we had to change track. We now have some nice bumper material from the local West Marine.
Evidently we
decided at the last minute
to build some screens for the main cabin center windows. Now we are waiting for narrow barrel bolts to mount them.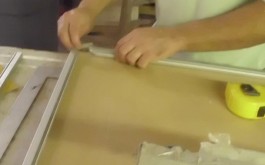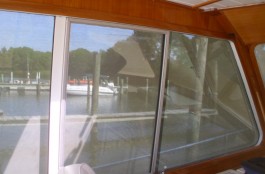 We did get the keel ground back on the GB42. There is evidence of an old repair and unfortunately Kevin could tell by the grinding smell that it was done with West Epoxy.
You can put epoxy over fiberglass but not the other way around
. Since there is already epoxy there we are stuck with doing epoxy repair.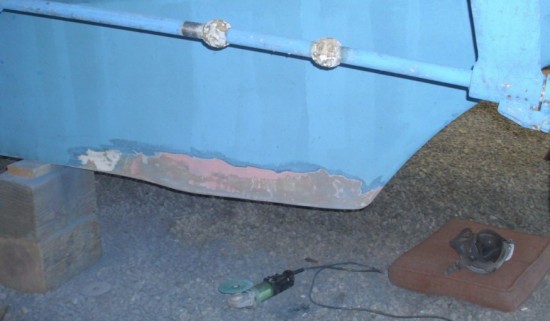 We also started pulling the windows out of this boat for track replacement. If you have a GB and
don't maintain your window tracks, you will be faced with this repair
down the road. We first have to locate all the screws in the frames to remove those. Then it is crucial to work slowly and carefully to avoid breaking the wooden frames as you wedge them off the boat.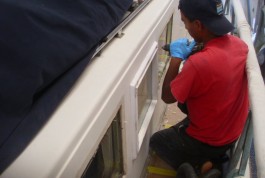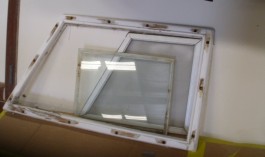 After removing them, we have the task of removing all the old bedding, sanding and prepping them for the inevitable repainting. If you are doing this yourself,
plan on cracking at least one window
(we usually do). Then, if you don't, you'll feel pretty talented!