Much nicer today – I wish I had a photo of palm trees to post! The sun is shining and it is already 52 degrees out. Can spring be far away now? Of course it is supposed to be back in the 30's by Friday but we do appreciate the break. We started sanding the Legacy hull but discovered that perhaps some sort of silicone polish had been used on it previously. The sandpaper just kept clogging. We will give it a chemical bath before proceeding – perhaps some acetone or something else that will cut though whatever that finish is without using a $1000 worth of sandpaper.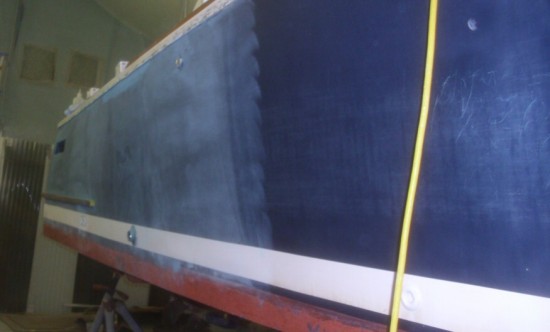 In the meantime, we took the swim platform off to the carpentry shop to remove the finish – which is Cetol. I may have mentioned this a few weeks ago. It will look much better natural. I'm thinking this boat will look like it just left the show room when it leaves, there are several other cosmetic items on the work order in addition to the hull work.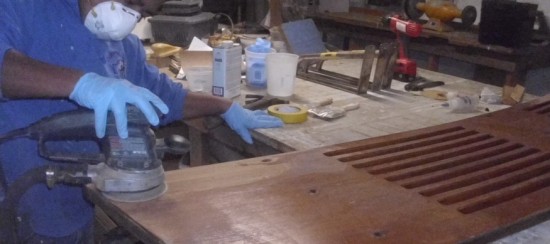 On one boat the customer noted that the ice box was not cold enough at the bottom — even though that's where the plates are located. Since cold air sinks (and warm air rises) we are moving the plates up to the top of the box which
should
eliminate the problem.

While walking by, I notice one boat that may be in line for a water line raising. If you are getting barnacles this far up, you may need the same treatment! These are a bear to get off without damaging the paint.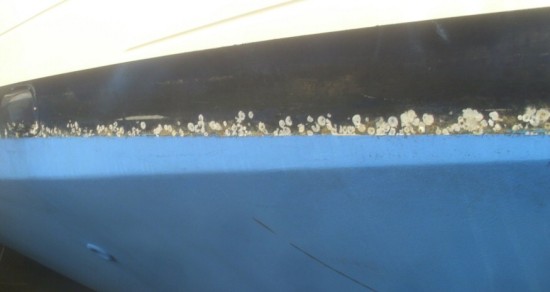 From the DIY guy
If you need a new windshield for your GB you'll find they are not that easy to cut – too many angles. The DIY guy did almost as good a job as we usually do — and he found out what I meant about it not being a job for the feint of heart. It looks great and all the angles seem to be pretty much spot on.

From My Little Shop
I think I mentioned my new found love of the lathe. As an experiment I wanted to try a lidded box last week end and whipped this up out of some scraps of English Cedar, Poplar, and Cherry. This is a great way to use up little scraps.