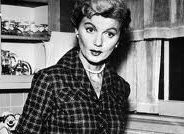 I guess I'm spoiled but it seems cold out there today – and it's JUNE!  Although the workload is highly manageable at this point there is still plenty to do. We have boats in Oxford being worked on as well as those here in Trappe. We also have outstanding requests for estimates we need to deal with at some point. Today we had to start out the day with repairs to John's Suburban before moving on to real work.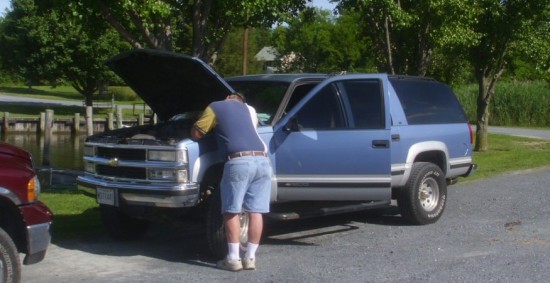 The butterflies stayed away and we started on the boot stripe on the Albin 28. We are using Grand Banks white because we like the color – and we always have it in stock. Yesterday we taped off, sanded, masked and shot the primer.
Here it is ready for top coat.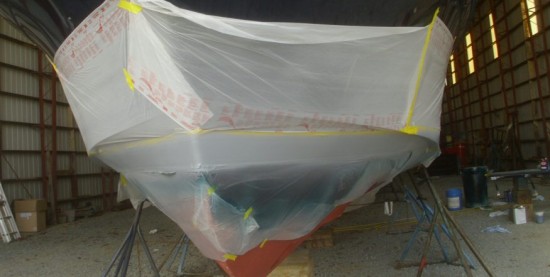 We also had almost a full day of service on a Volvo Inboard/Outboard to take care of.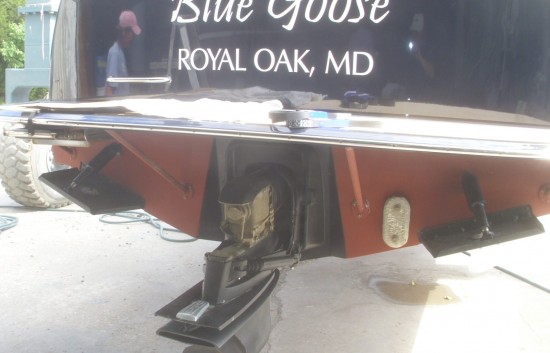 On the GB46 that is still left, the owner wanted to redo the bimini. He didn't like the way the mast stays typically come through the bimini and into the bridge area. The answer was a permanent structure that would both be one of the bows for the bimini as well as mast support. It looks like a winner. I'll show more detailed photos when it is totally put together.