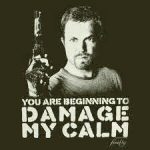 It's a beautiful spring day and things seem to be calm today. We are planning a revamp of the Oxford facility which takes a lot of planning, approvals and general hoopla to get anything done – especially in an historic town like Oxford. We also seem to be taking sides in the major controversy regarding the proposed Oxford Pool.  You can read more about that if you are interested at the
Oxford town website
or the
Oxford Pool website
. But meanwhile, over in this little town it is business as usual. Pat is installing yet another high water alarm in a GB32. On this one we are adding just a light on the flybridge and putting the alarm down at the lower helm so the owner can hear it if he is sleeping (he must be a lighter sleeper than I.) As you may know, the float switch has to be mounted higher than the primary float switch – you don't want it to go off in conjunction with the bilge pump!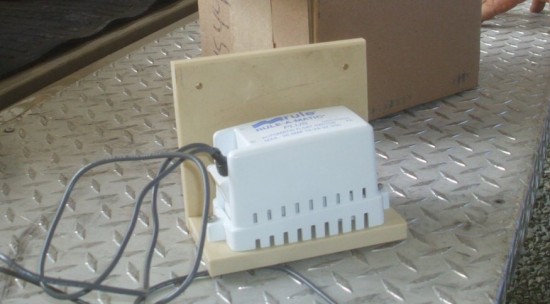 We have finished chasing cracks in the Legacy are are preparing to spray the high build primer on the repaired areas. This should give us enough thickness to fill any thing we may have missed – sometimes imperfections don't really show up until the paint goes on and it is good to be able to do some more sanding.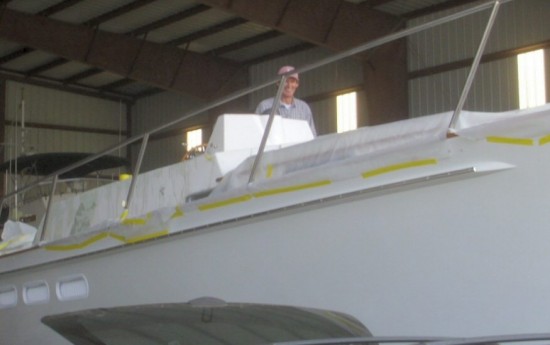 I thought yesterday was going to be blue day but there were a few more details to take care of before the spray – like the rudder which has just enough blue to be obvious.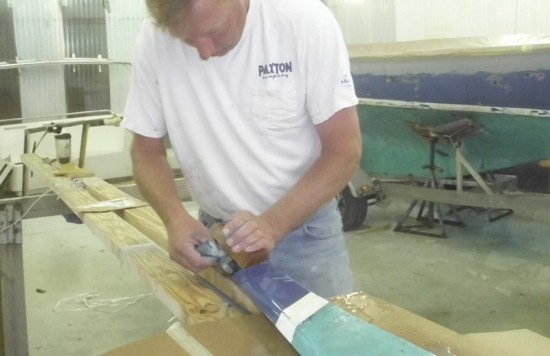 Last week I showed a pump repair that we experimented with. Needless to say it was a no-go. Instead we are upping the ante and putting a different pump with a larger accumulator tank.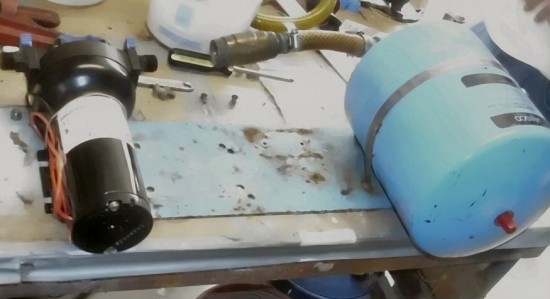 The tank maintains water pressure and limits pump cycling and hammering.