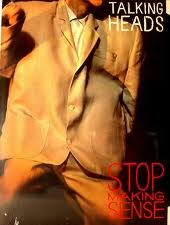 Sometimes it seems like a chore to do the blog every day. It seems to elicit a lot of internal complications where I am either accused of giving away too much information or congratulated for bringing new work into the marina. I'm just confused as to where it should go. I had envisioned doing videos of some of the tasks we do as an instructional tool as well as some other "good" ideas I had but that would further complicate things. But for now the blog continues. We started off the day doing some maintenance on the hydraulic trailer which is crucial to getting every thing done on time this time of year. As the equipment gets older it demands more of our time.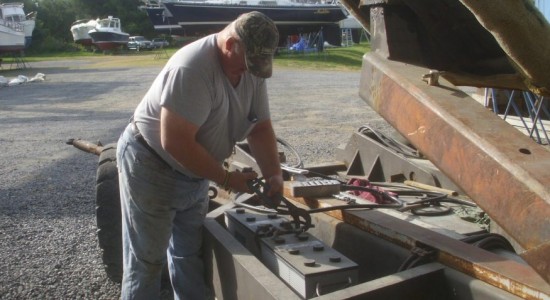 We do a lot of deck repairs here. Today's is an Eastbay 38. If you are sanding your decks you probably won't be able to get all the way to freshly flat wood which means there will be dark (dirt) down in some of the grain when you are done. Simply follow up with Boatlife Powder Teak Deck Cleaner. This has a slightly abrasive quality and gets down into the grain but won't harm the decks in any way. Just be sure not to use too hard of a brush with it.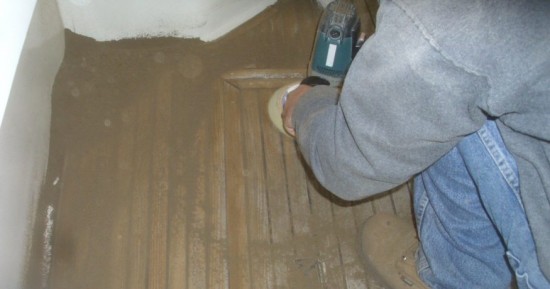 On this transducer installation, the old backing block had rotted. The new block is totally encapsulated in epoxy and when the hole is drilled through the end grain will be coated with epoxy as well.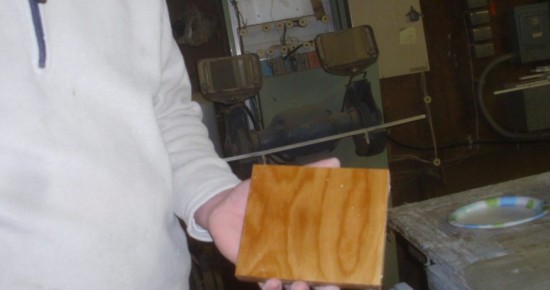 Follow ups
The boom job got completed with all new hardware – a different approach than we had done before and we are anxious to get it on the boat to try it with the new dinghy. It should handle more weight and make the whole rig easier to handle.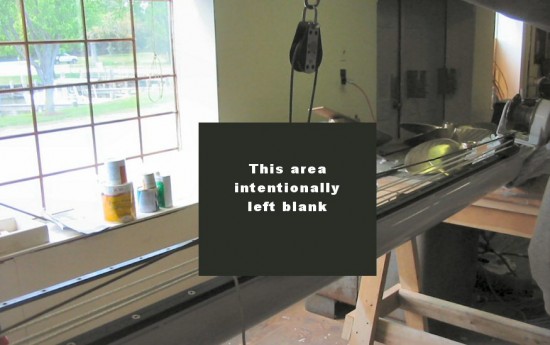 We were able to get 2 coats of sealer and one coat of varnish on the eyebrow of the GB42 thanks to the miracle of "hot coating". I may have mentioned this before but the sealer performs two purposes – firstly it seals the wood so it accepts product evenly despite the variations in grain and coloration. Secondly it gives a darker color than clear varnish which is usually what we want when trying to match the surrounding older varnish on a boat. We have had the best success with Interlux 1026 Inter-prime wood sealer.