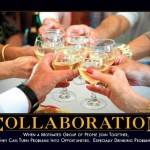 It's all aboard today with a day of full worker participation. John has gone over to the western shore for a survey on a GB42 we are getting ready to list – after an extensive repair list including new fuel tanks. And speaking of fuel tanks we should be picking up the tanks for the 32 by Friday and we can start showing some progress on that. I wanted to show you the davit parts first. We will let them sit for a couple of days before installing to ensure full hardness of the paint. Hopefully by the end of the week.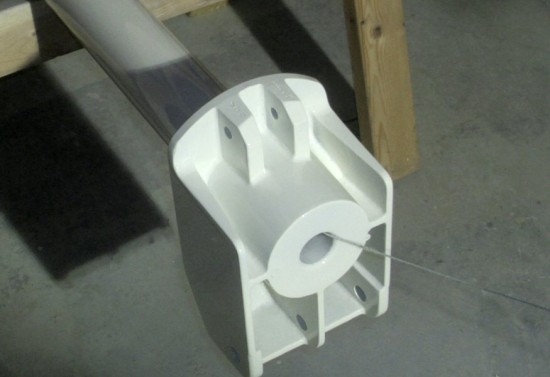 We went out to remove a name from a transom but found out it was paint not decals. How old school! We used some fiberglass-safe paint remover but the instructions say let it set for like 10 hours or something insane like that. On-off oven cleaner usually works as well but we don't have any in stock since we seldom see painted on names any more. Our main concern is protecting the transom.
From the ashes rises the phoenix – we used this pile of scrap yesterday. Since the big clean up it was a bit easier to find some similar pieces.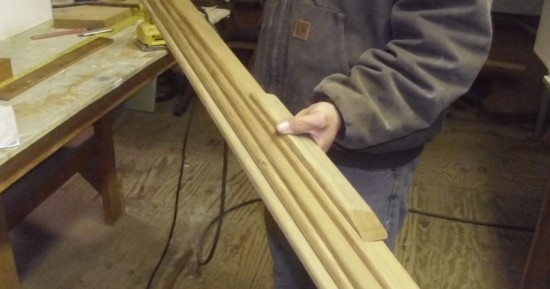 And here is where this trim is being used. As you can see there is some water damage going up the face of the teak plywood. As you can imagine this would very expensive to replace. The right trim covers a multitude of sins.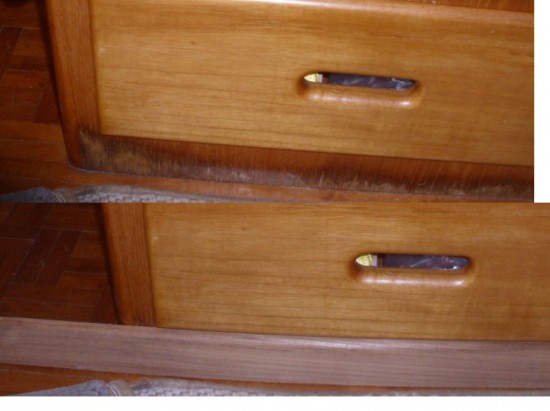 When it is installed and sealed I'll show another photo. We also started on the keel repair on a J29 that I had here a couple of weeks ago. When it was ground back we found a whole lot of putty and very little glass work. You can also see where a big chunk of unsupported glass fell out. This was just a bad repair. Unfortunately it was also filled with water which delays the repair since we can't glass over wet areas.