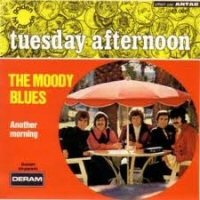 Another casual day. Everything went smoothly yesterday and the crew was oh so productive with the low stress levels. We never got the thunderstorms yesterday and although they have also predicted one for today, I'm seeing no indications that it will happen. This time of year
you could predict a thunderstorm everyday
and be right some of the time. One thing I missed was that on Friday during the hectic day the new cradle showed up and got moved to the purlieu of the yard and promptly forgotten. While walking out there yesterday I happened to notice and snapped a shot. It is a beautiful piece of work (
at least for a boat cradle
).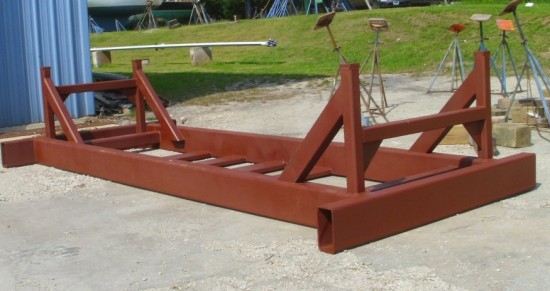 If you have a Europa, you may have experienced a similar problem. If you slide the doors too hard you will break the delicate little slide bolts they use to fasten them. We decided to avoid this problem in the future we should
go with the beef and upsize these
. They look pretty good and are much more substantial.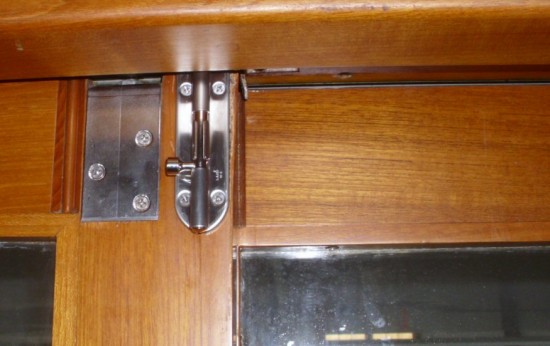 The hardest part of doing Awlgrip repairs is
blending the repair into the rest of the paint
. We start with a wet sanding with 1500 grit sandpaper and then move on to a special buffing pad and compound which is made for paint. Doing dark paints is obviously harder than doing white.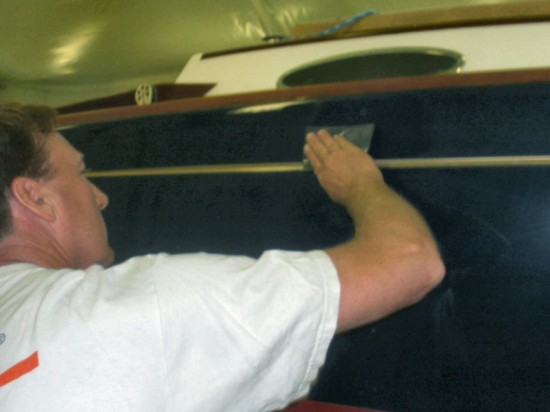 Fairing is a special talent which can only be honed by doing it a lot. Ted Clucas who helps us out sometimes and keeps his boat in the yard is making a repair to his boat. There was a minute crack in front of the keel which was actually letting water weep into the boat –
always a concern as it will just keep getting bigger
. To repair this he ground the crack out and repaired from inside and out with west system epoxy. At that point he needed to resurface and that is where the fairing skills come in.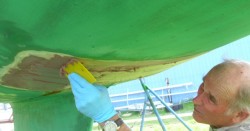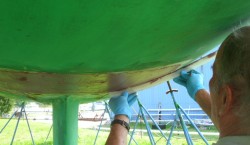 My past few weekends were spent building a section of fence with gate and arbor. I didn't want to go with premade lattice on the sides. For one thing they won't stand up to the Hyacinth my wife wants to train on the arbor, plus they just look kinda cheap. I think it turned out quite nice and will look even better with the color evened out. See I do have some skills!