The sun is shining but it sure is chilly out there! I was hoping that that 70 degree day would keep repeating itself, but alas,
it is just not spring yet
. We are working in spring mode though with more launches and pick ups scheduled this week. I wonder if the people taking early delivery are actually using their boats. That's fine though because it frees up other boats that need to also be out on time. We are moving a couple of the smaller boats that we have in brokerage over to the Oxford office – the next being an
MJM 34 downeast
style boat. This is a beauty and is the "perfect bay boat" (I know, you've heard me claim this before).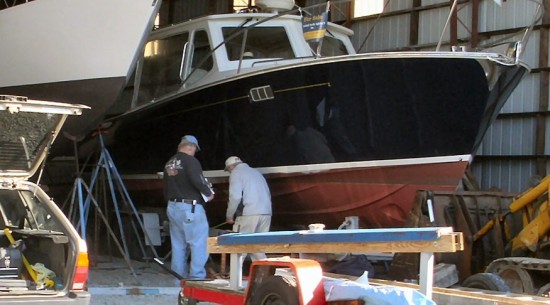 About a month ago we started a fuel filter plumbing project. The problem was that someone had tried to plumb the racors up with a Rube Goldberg  device (in the foreground below) which reduced number #10 fittings down to #6 hose. Also they mixed flare fittings with NPT fittings which was doomed to leak from the start. We have been searching for a Racor fitting to do this and it doesn't exist. Racor gave us part numbers for parts that weren't available and
could not fathom what we were trying to do
. We finally ended up buying the right reducers from a performance automotive dealer. These are anodized aluminum so they won't corrode – and they look pretty sexy!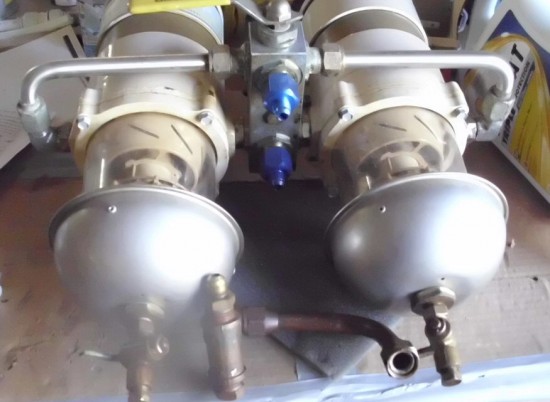 The small window work on the 42 should be done this morning- we had the power team on it yesterday.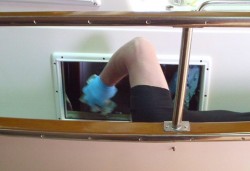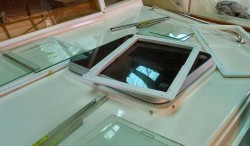 It's a nasty job but someone's got to do it.
And that's head hose replacement which we seem to do a lot of because a lot of people need it (even if they don't think so!) It's good to have one guy who is oblivious to the obvious health hazards of dealing with encrusted hoses. (He never reads the blog so let's not tell him)