It's hard to believe that one week ago today it was so cold we all stayed home. Today we have the liquid atmosphere but certainly bearable temperatures – 48 already this morning. The work continues on the hatch rebuilding as they move on to another hatch.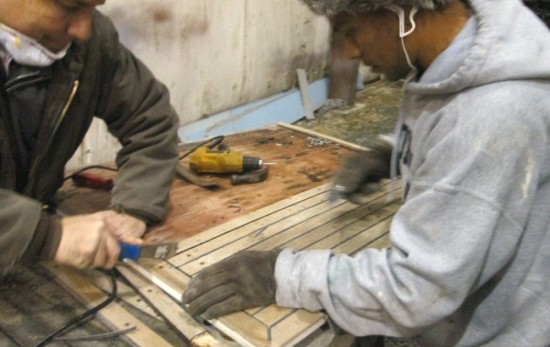 As you can see in the photo below, the plywood was pretty spongy. We will be replacing with a foam core to avoid the problem repeating itself.
And here one hatch ready to receive the foam core. You can see the discoloration from water being trapped in there.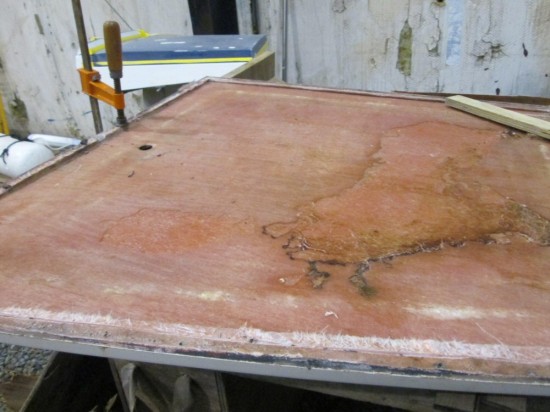 Yesterday Carlos was prepping the mast parts for paint. He looked like he was getting a bit stiff from bending over. I think that's why other people would put them on a bench — just sayin'. This morning he has some music on that sound suspiciously like Alvin and the Chipmunks — in Spanish.
If you have the tell tale Chesapeake Bay Bathtub Ring, a little On/Off will take care of it. There are actually quite a few boats out there that look like this — which is a good case for a dark hull color.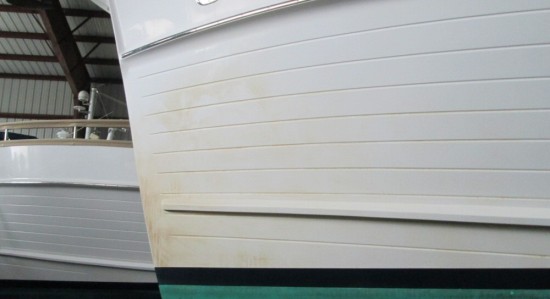 Izzy loves to varnish more than he likes going home! Imagine that. He has the transom looking pretty good on this 46. The cap rails are being built up at the same time.