Time is moving quickly apace! Are you got your last minute shopping done? I have since my wife and I stopped exchanging gifts. We both just buy what we want when we want it so no stress at home trying to come up with something clever. But you may still be looking for a gift for the boater in your life. First I have to start off with a lead in. During the course of winterizing we usually do a battery assessment sheet for each boat stored in our buildings. I had shown a blank one last week because the mechanics had the working copies. This is what they actually look like when originally filled out. After the boats who request periodic charging all get hooked up and are actually charging, we fill in the charging column to ensure all is working with the charging system. Since we use moveable pedestals to get to the boats in the middle of the buildings, we have to get the boats in first to avoid running over the cables with the lift before we set all the boats up to charge. If you can't remember to check the water level in your batteries during the season, go maintenance-free — we often find dry batteries.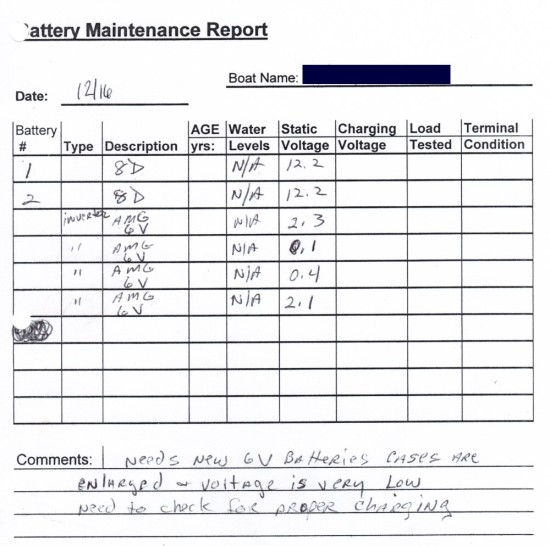 That was the lead in to  a great gift idea – a battery monitoring system.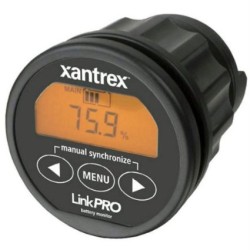 LinkPRO Battery Monitor
Read your battery bank like a fuel gauge
Provides critical information about the status of your battery bank
Displays voltage, current, consumed amphours and remaining battery capacity
Secondary battery bank voltage monitoring
Auto sensing battery voltage inputs
Large backlit LCD Display
Quick nut mounting construction
Programmable alarm relay
Shunt selection capability enables flexible system integration
Splash proof frontpanel
500 Amp shunt included
CE and e-mark certified
Displays time remaining
Communication/expansion port
Stores a wide range of history events in internal memory
Advanced programmable alarm relay
Battery temperature sensor input
If you find one of these under your tree
, send it on in for us to install it on your boat. Of course, it is
available from Amazon
.
Brokerage Sales
The economy has definitely been on the rise over the past couple years as is evidenced by the reports we receive from
YachtWorld
and trade publications we subscribe to. But they only
real
indicator is
are we selling boats
and that is an affirmative. We have multiple deals in the works right now and are finding some new boats to fill up our diminishing inventory of boats for sale. The following reprint may be of interest to you.
Note, I had to scan it as a 2 part photo since it wouldn't fit on the scanner properly.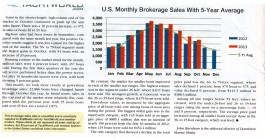 Better Than Sliced Bread!
We have several of these nice rolling cradles that were actually used when Dickerson Sailboats were being made here and 37 foot boats were moved through the production stages. They are perfect for rolling boats around were we want them once they are in the shop. They are stable enough that none of the workers seem to mind going under them.  I believe we did some alterations to them a few years ago to make them more versatile but to tell the truth that predates my current memory data storage limits. All I know is that they work great for our needs.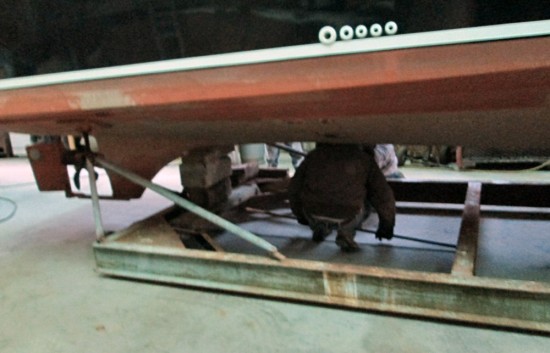 Random Notes:
If your boat is in storage and you haven't sent back your winter work list, you can
download one here
and send it on in. We don't want to make any inaccurate assumptions about your requests! This time of year this blog is obviously geared towards storage and our efforts to make your stay an enjoyable experience. After the first of the year the focus will back on service work so don't despair if that is why you come here. Also a reminder that we do close down during the holiday season so we can come back refreshed as well as spend some well-deserved time with our families. Also after the new year we would like to start sending a periodical newsletter. If this would be of interest to you, there is a link in the "Other Pages" menu where you can sign up. Or just
go here
. We have some ideas for the newsletter that will not be in the blog so it wouldn't hurt to do both!