Yesterday was a spectacular day– at least weather-wise. The sun carried over into today but the temperatures didn't, plus it is quite windy out there. Despite the conditions we trudge on. More boats come in every day yet we seem to be on the 2 boats per day schedule which should allow us to get the boats that are here and a few more out by Thanksgiving. And speaking of Thanksgiving, whose bright idea was it to have it so late in the month?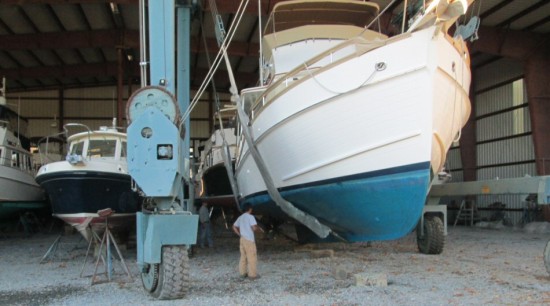 Some new arrivals were taking advantage of the weather to do a bit of "dock sailing".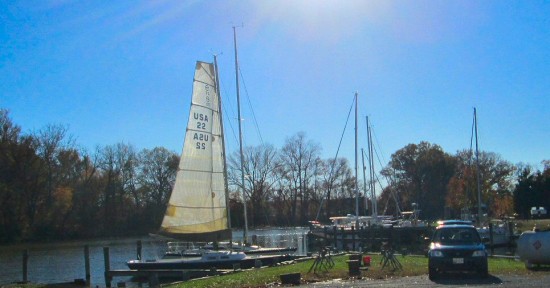 We did have to start off the day by doing a little minor maintenance to the travel lift. We had a bit of water in the fuel on Friday and it was time to change the filters. This must of been jolly good fun since everyone wanted to lend a hand!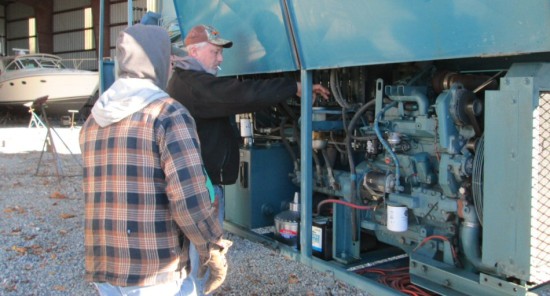 The young guys with their as yet undamaged backs get to take care of the grunt work — moving blocks and stands and the like. I remember when that was just a normal day, now just the thought of moving jack stands all day makes my back hurt!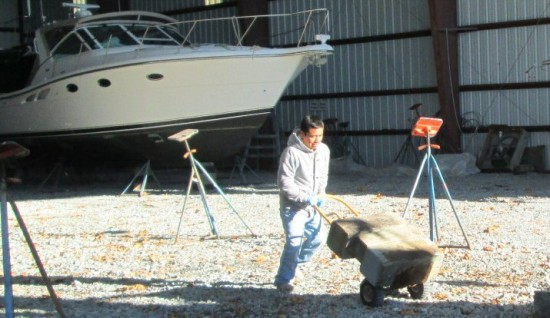 Special Thanks
The customer who is having his varnish done over at the Oxford facility also reads the blog every day. He put in a new mantle and brought me some beautiful pieces of really thick ribbon striped African Mahogany. Thanks Jean!