I'm afraid if I keep doing boring posts I'll end up losing my readership but this time of year is notorious for boredom. It's perfect boating weather so almost everyone is actually using their boats and not getting work done except for normal small problems. Once again we have people working over in Oxford but I'm not really sure what they are doing. I scratched my cornea over the weekend and it is hard to read or even type the blog. Plus the discomfort has put me in a pretty foul mood – as people here can testify to. Just a warning in case you call and I'm not my normal chipper self. Kevin has been sanding the gold in preparation for shooting the hull. I can assume there will be major blue happening before the end of the week.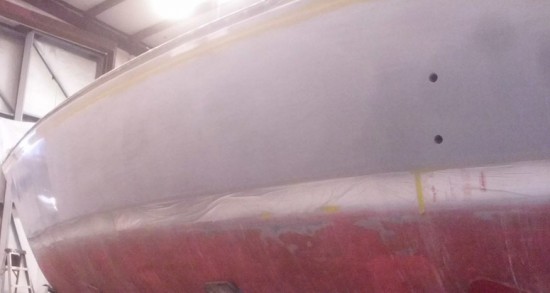 And Angus is varnishing the rails on an Eastbay. We have only had a full time varnish guy for about a year but it is not hard to keep him busy — there is always varnish work to do. I also found out that he does splendid cabinet work. Some people tend to hide their true skills.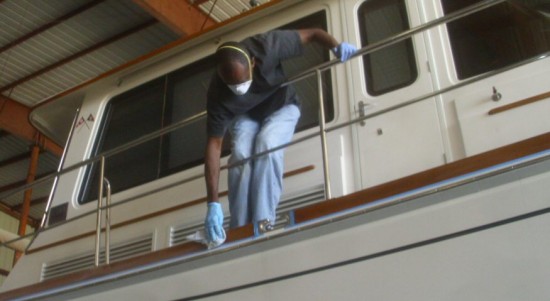 Wayback Machine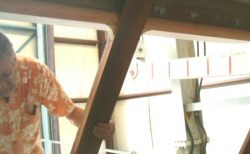 In this time frame
back in 2008
we seemed to have plenty of interesting work. We were converting the spray rails on a Sabreliner from varnish to paint, building the custom hardtop on the Eastbay 38, prepping a Cape Dory trawler for sale and numerous other projects. There was plenty to blog about back then which makes this season's blog all that much more uninteresting. We need some interesting projects — maybe your project! On a personal note, I abandoned shoes on Memorial day and went to my flip flops — which I wear everywhere with no exceptions. After Labor day I moved back to shoes. I'm just weird that way!