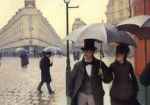 Whoa, I wasn't wrong about the rain! Good weather for ducks – not so much for working. I am a bit late posting today as I was waiting for my camera to come back.
Cabin painting
can be tricky. Be sure you do proper prep work and definitely make sure there is
no moisture
in the substrate (meaning plywood surfaces). It is easier to work with fiberglass but we don't seem that many boats that don't have plywood as a base in the cabins.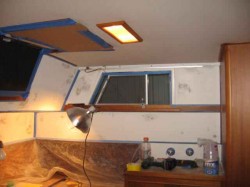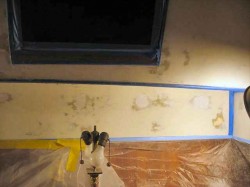 Ventilation is important
in any boat. This particular boat has one Solar vent installed in the cabin top of the aft cabin in the head. We added this second one forward to establish a good flow throughout the boat. This one was installed right through the Lexan of the hatch. We used silicone as a sealant to ensure it would be able to be removed when the Lexan needs to
inevitably
be replaced.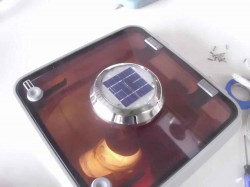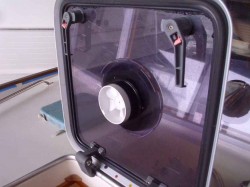 Dickerson Secrets Revealed
The only product you should be using to clean teak decks is BoatLife Teak Brite Powder. This will not harm your decks and with a slightly abrasive, non-acid powder you don't risk driving the soft wood from between the grain or damaging the rubber seams. Also, don't clean those decks until they need it – repeated cleaning of any kind will shorten the life of the decks. BoatLife has an article on their website about caring for teak. You can
read it here
. Not all chandlers carry this product, but you can
get it from Amazon
(I get everything from Amazon!)