I hope you all had a great 4th – I know I did. The heat wave continues and by Saturday it will be like walking on the sun.  We are operating with half crew today and after the Legacy is sprayed today half of that half is leaving. I may just send everyone home at lunch time and call it a day. With the temperatures so high it is hard to get much out of people in the afternoons. On the plus side, it should back in the 80's by next week if you can believe what the weather channels predict. Friday afternoon everyone was in Oxford working except Kevin and I. Kevin was preparing the Legacy for the shoot today. It was a bit hot out in the tent – I can testify.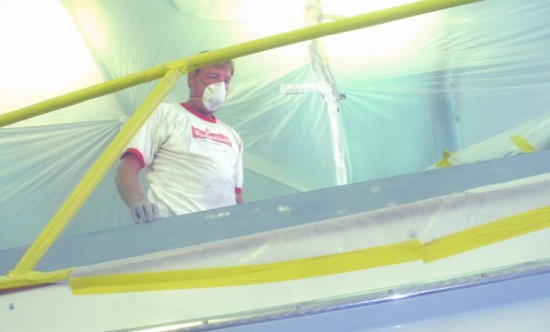 He couldn't really wash the boat with water since there was too much paper masking on various areas so he had a lot of wiping and vacuum work to do. It needs to be clean, clean, clean to spray paint.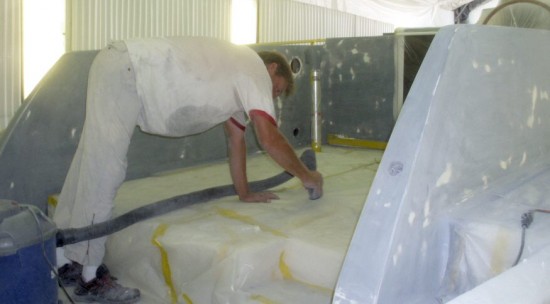 The other boat being worked on is the GB42. The door frames are getting the full treatment and despite the boat having Cetol on the rails we are going to varnish the door frames. The Cetol just won't hold up there.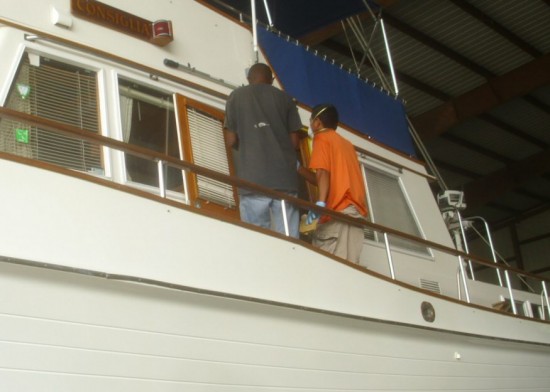 Another problem we are dealing with on this boat is some rust leakage at one of the flybridge steps. This seems to be a problem on a lot of GB's. You can see the rusty bolt sticking up in this photo.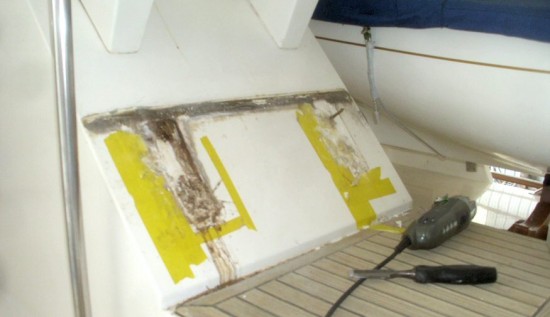 The owner of the stuffing box I posted the other day came in for the holiday and cleaned up the stuffing box. Although it looks better he will need to do a bit more after it gets taken out of the box. He had discussed drilling out the broken bolt with the box in place but as you could imagine that is a problem waiting to happen with the tight quarters and angle that it sits down in there. If the drill goes in at an angle you've ruined the part.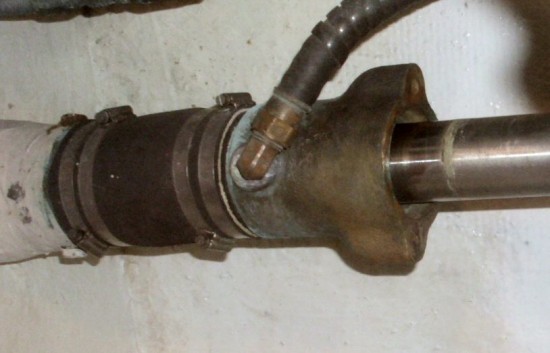 I was in a hurry on Tuesday and forgot to put up something fun for 4th of July so here you go. httpv://youtu.be/2R1jiVcIGcg