Not sure how many of you caught my blunder yesterday (see I do make mistakes). I erroneously titled Tuesday – which makes 2 Tuesdays this week. If we are doubling up on days,
I would prefer it to be on a Saturday
.  I started out behind this morning after a not so quick semi-annual visit to the dentist. On the bright side, I was able to stop and get everyone donuts!  On the downside, someone had been on my computer and changed, closed and lost everthing I was working on before I left last night.
That set my mood for the day
. I looks like it is panning out to be a bright, fairly warm spring day. It's funny how over exposure causes you to miss some things.  I just noticed that the trees in the marina are starting to bloom – that couldn't have happened overnight.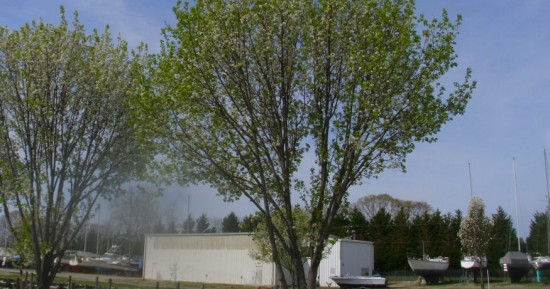 We had a boat with damaged Bomar hatch arms on it. These are not the common small arms but rather expensive ones. I had the bright idea to just replace the tubing with some heavier stock from my old stand-by – McMaster Carr. It
worked perfectly
and should not bend again (barring any heavy pressure).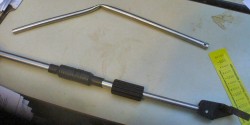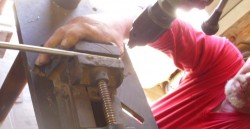 I have tried to capture good compound and polishing pictures, but it just doesn't seem possible – to close and you get flash back, too far away and you just don't get the shine. These however show the
dramatic difference
between the side that is done and the other side.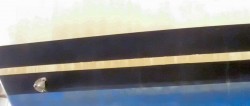 The travel lift crew appears to be in full motion.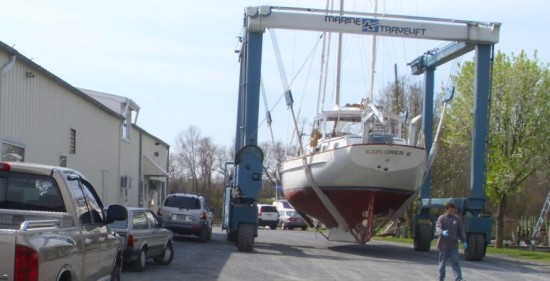 As you can see, it is a tight squeeze by the front of the building. That is why we request you
not park on the creek side
. We came in Monday to find a car parked there with no key and no owner. Consequently we had to have all employees stop work and move their cars to the other side. Not very productive!