No improvement in temperature yet. It was in the upper 30's when we arrived this morning but it could be as high as 45 later. I was lamenting that it could be 90 a month from now. But at least it is sunny again today as you can see in this reflection on the Eastbay Kevin is working on. The paint on this boat was far from perfect but he has it shining pretty good. If you look closely you can see the line where he stopped.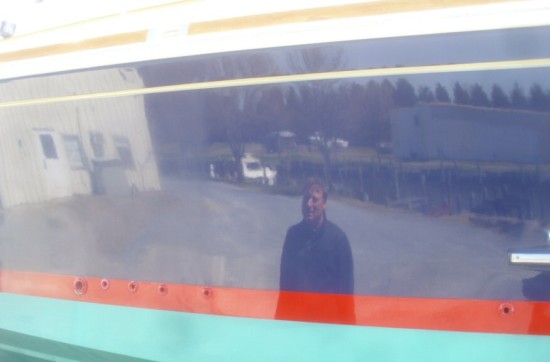 On the opposite side of sunny, I took a rare trip into the building across the creek — which I never show any photos of. So here is a photo of the inside of that building: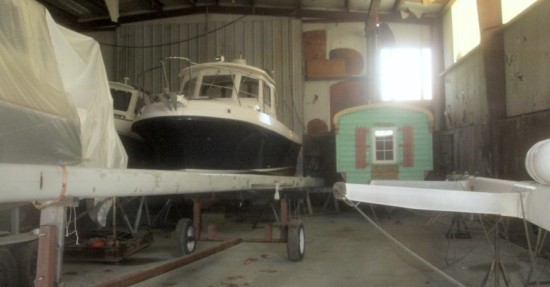 The reason for my trip was to check on the varnish on the Blackwater. It was looking good however I don't know how since the lighting is atrocious in that building.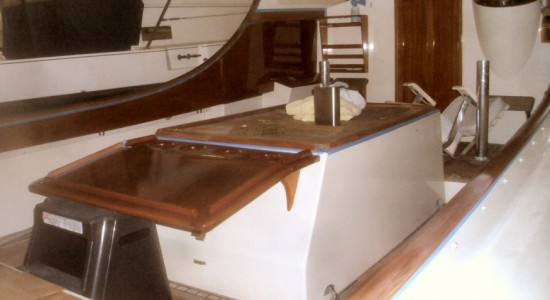 I will be showing more of the seat project in the GB42 Europa now that the boat has been moved into the void in the building right next door. All the parts are here and everything has been bench built and ready to install.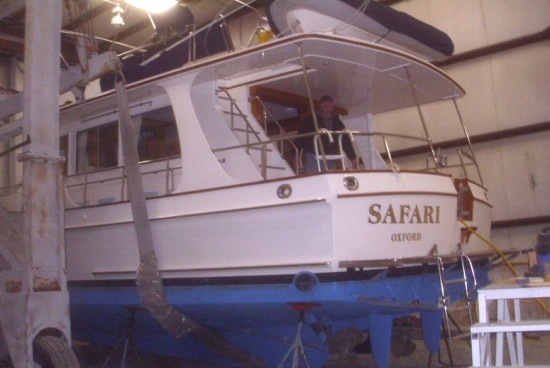 On the teak panel we altered there was a void along the top where the overlay was glued in. This is an old woodworking trick. If you mix wood glue with the sanding dust from the piece you are working on, it should virtually disappear. At home I use Elmer's White School glue for this since it dries totally clear (and quick).