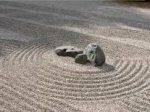 Spring weather is still upon us – at least until the weekend when it supposed to be back in the 40's. Today when I came in the office the smell of propane nearly ran me back out the door. The level on the tank has gotten so low that the artificial smell that is added to the gas is now burning. Fortunately I shouldn't need the heat any more this week. And since we are almost in the spring weather we took the opportunity to do a bit of outside repairs. Everyone had cabin fever! Poor Izzy hauled 10,000 lbs of stone in a wheel barrow to fill pot holes. He ignored all my offers to take a break – you can tell he is young. Today he is cutting in around the trees to keep the mower away from the bark. A little mulch and the marina will look about 27.35 % better.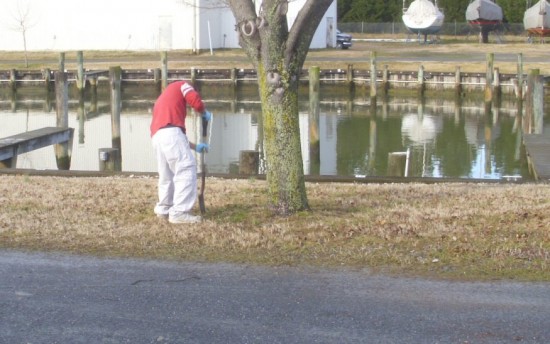 The electronics job was moving at breakneck speed yesterday with both Rumsey and Pat along with the boat owner. The first step was to put the new mast up so the new equipment could be wired.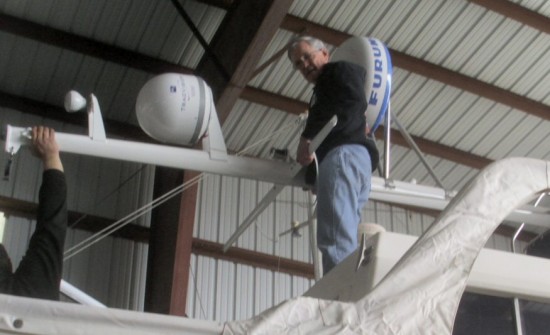 And of course all the antennas were being replaced. The owner had taken the teak block home to strip and varnish and they look great. But as you've read here, I consider those to be nuisance blocks and would have used some King Starboard to build some maintenance free replacements – but that's just me.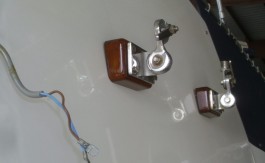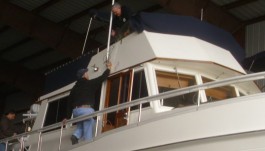 On the flybridge, the chart plotter will be mounted in one of these
NavPods
. An attractive way to install which also lends a lot of protection to your expensive gear.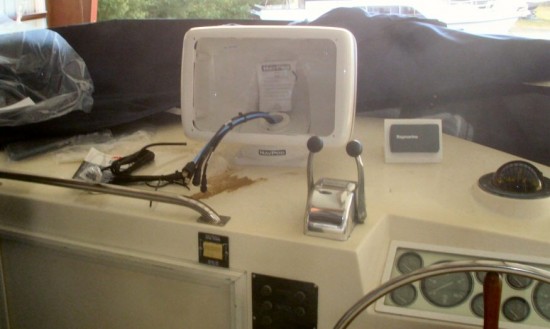 The owner of this boat has put a lot of sweat equity into the project and one thing that he has discovered (which we already knew) is that any time you have something apart you should take advantage of that to do all the cleaning and maintenance to get a good job. Like cleaning up stainless and bronze hardware.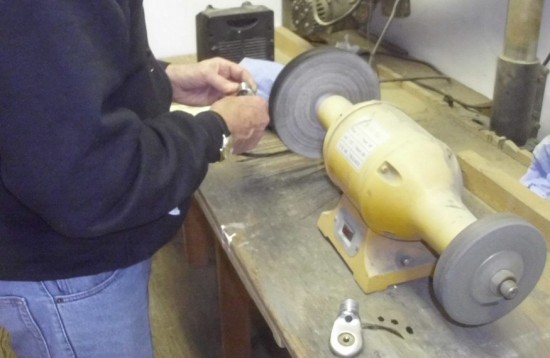 Seacock / Strainer Maintenance
Some years you can just open the strainer, inspect and clean and you are done. But occasionally you have to bite the bullet and rebuild these. They do come apart easily and this could be a do it yourself job. Just don't do with the boat in the water because you have to pull the barrel out and your boat
may
will sink.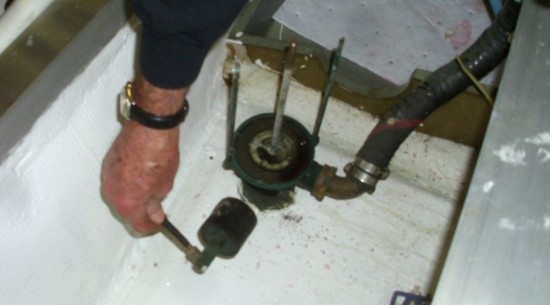 The
Groco kit
will include everything you need except the grease. They do recommend Dielectric Silicone although we have used other lubricants. You just have to make sure the chemical in your lubricant won't hurt the rubber barrel – these are not available as a replacement part any longer. Expect to spend about an hour and a half on each one to do the job properly.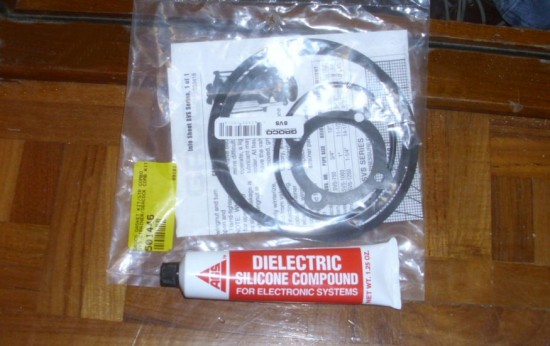 Review Response (SpeedSeal)
An independent review from one of our customers:
I did have experience with this product. Installed on a Yanmar 3GM30F on our Hunter 340 sailboat about 9 yrs ago. Boat was purchased new in 2001 and in
the first year I had replaced the impeller. Installed the kit (recommended by a boat mechanic friend) and did not experience impeller failure up to time we sold the boat 2 yrs later. Will say the quick-removal face plate was a real plus, allowed impeller inspection to be done in about 2 minutes.
No complaints, product performed as advertised. Glad you posted, I'm going to order for our Cat engines and Westerbeke genset.
Thanks Frank!
---
And as my old buddy
Stumpy Nubs
says: 
Some people are like slinkies – they're pretty useless but it's still fun to watch them tumble down the steps.