I did it, I'm out of the office today!! However, it is to the dentist office to have a tooth fixed that I broke a couple of weeks ago. Fortunately, I had my camera in my pocket when I left yesterday and can still do a posting today. The day was primarily about getting John's boat ready to race. An antenna mount wouldn't tighten up properly so Pat wanted to add a couple of washers. John nixed that because "he didn't want to add any weight to the boat".  Maybe I'm wrong, but
I found that to be quite humorous.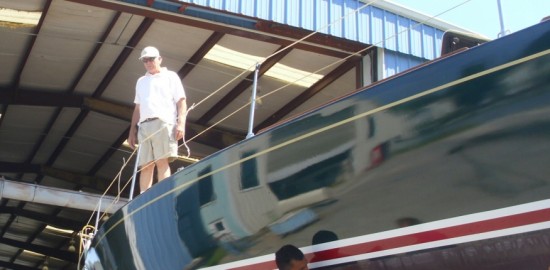 The morning started out with a lot of wet sanding. I mean
a LOT of wet sanding
.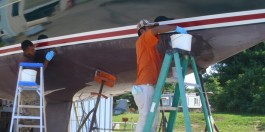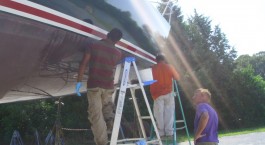 Later in the day the mast truck arrived and the mast was set. After making launch and some commissioning the boat left for the Oxford office. I'm sure John
would have liked to thank everyone for the splendid work they did on his boat
.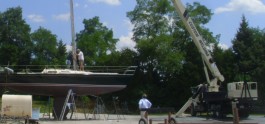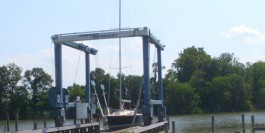 And speaking of splendid work, the bottom repair that Kevin did is virtually disappeared except for the color difference in the new paint versus the old.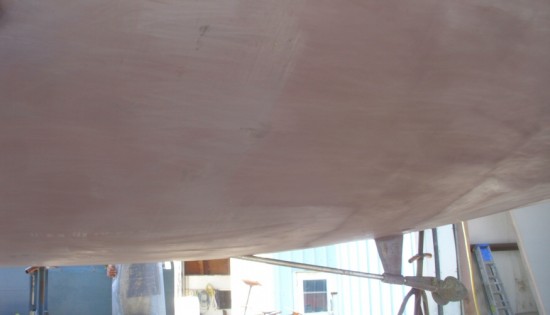 Some work went on elsewhere in the yard. Jen is touching up some windows on a GB32 – the same one that we polished the superstructure on earlier this week. This is just a touch up to get him through the rest of the season as the owner is thinking of trying our new frame method of stripping and epoxy coating this winter.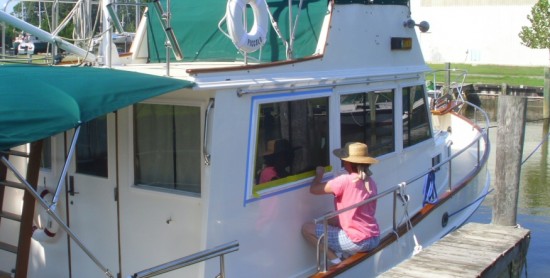 She found a little visitor out in the shop late yesterday afternoon. We see lizards in there all the time, but this is the first turtle we have ever seen.