We have a lot of no-shows today (including the head man himself). I don't think it is cold related (although it is plenty cold enough – but we don't need to whine about that) – maybe its the blue flu.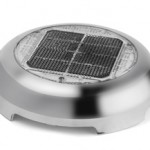 Instead of featuring something going on I am going to ramble about something that is going to go on. I think everyone knows the importance of good ventilation in a boat – we certainly nag about it here! One of the products we like to install in boats here in the yard are the solar vents (specifically the Nicro Fico ones). In the boat we are preparing to install these in we will be putting one forward and one aft – one set to exhaust and one set for pulling air in. This should set up a nice ventilation system in the boat and should also help if you have odors in your boat. It is available in stainless and white. We prefer the white when it is sitting on the fore deck as it is not quite as "in-your-face" as the stainless. The stainless looks better sitting on a tinted glass.
Information from the manufacturer's website:
Product Features:
• Circulates fresh air in boat cabin eliminating mold, mildew and musty air • Moves 1,000 cubic feet of air/hour or 24,000 cubic feet of air/day (4" model) • Rechargeable battery allows for 24-hour continuous operation • Whisper quiet fan operation • No wiring required • Interchangeable intake and exhaust fans • High capacity NiMh battery operates vent for up to 40 hours without sunlight on a full charge • 2 year limited warranty • All mounting hardware, interior trim ring, and insect screen included • Direct to deck installation • 3" and 4" models are available to fit any deck or hatch installation • Built-in on/off fan switch • Complete air and green water shut-off from below • All Day/Night PLUS models come complete with two fan blades, white plastic interior trim ring, insect screen, mounting hardware and an easy-to-understand installation manual. • Replaces NICRO 3" & 4" snap-in deck plates (fits existing holes once snap-in deck plates are removed) Contact us if you would like to have these installed in your boat.