I had a call from one of our regular blog visitors (on a totally different matter) who told me he knows more about the weather in Trappe than he does in his own area. I mention it a lot because a lot of what a boatyard does is so weather-dependent – plus I guess
I just like to whine!
So I'm not going to mention how hot it is going to be the rest of the week. Kevin got as far as putting in new core on the bottom of Sponge Bob but has contracted an ear infection (maybe pool related – that's where I get mine). He says he should be back in tomorrow to skin this out.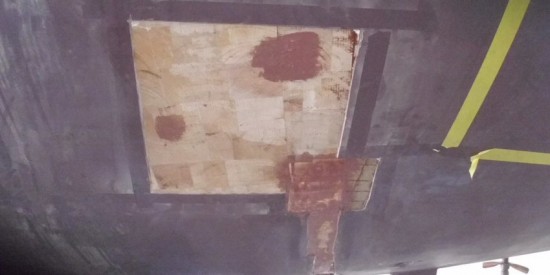 And Rumsey is installing some electronics on the boat. He brought this frame into the office.
I can't quite figure it out
but after it is installed I'll slip up and get a photo of it in use.
Willy was pumping out a really nasty bilge in a boat and needed to contain the oily mess in a barrel. This required setting up a bilge hose we could run outside the boat.
This is not the kind of stuff you want to run through your bilge pumps!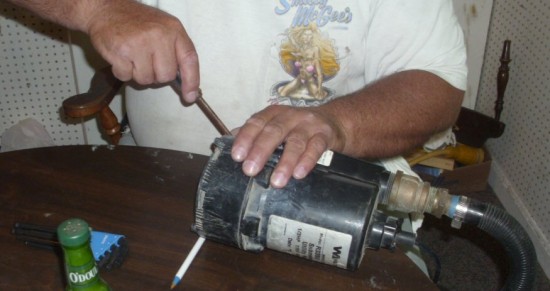 There were a pile of stripped frames back in the shop and I can only assume they will be epoxy coated at some point today. The epoxy will have to
set up at least overnight
before anything else can be done with the frames. But there is  plenty of other stuff to do in the meantime. The door frames are now sealed and ready to accept varnish. You can also see in the photo that we have taken out the vents for the paint job.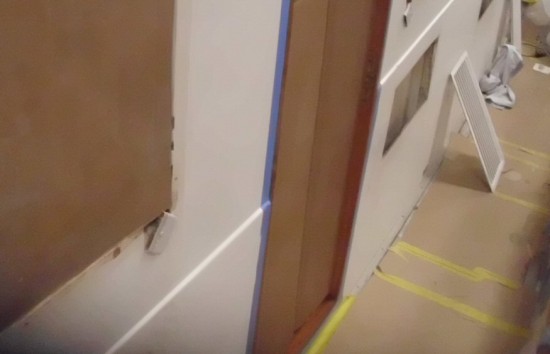 The forward cabin is also being painted so that required some disassembly and a lot of prep work.