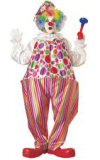 It's looking just a bit overcast this morning.  There is a thunderstorm predicted for today – and temperatures should hit the 90's. Consequently, we are moving the Eastbay to a building with doors in each end to get some
cross ventilation
going. I did make it over to Trappe Carnival last night – grabbed my pit beef and made a bee line home before getting roped into any local socializing. It was worth the trip and it was just a brief jaunt across the field back to my house. On the Eastbay that we took the soft pad out, we determined there would be no better time to perform
a little sprucing up in the engine compartment
now that one of the engines was out. This makes a world of difference down there.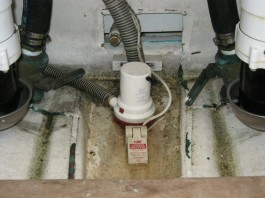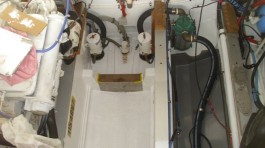 Wayne made great progress on the swim platform yesterday. Today he just has to cut the plugs and cut the round corners.
He is one of the best
when he can just do the job without interference. We will then put one of the yard laborers on sanding. This is the deepest platform I have ever seen on a Grand Banks.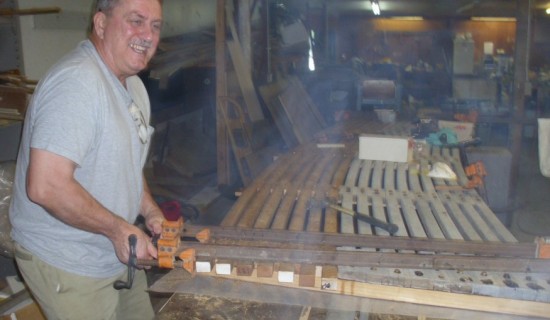 The engine mounts are now installed in the GB42. After starting the engines to check for vibration, we were
amazed at how quiet the boat is with the new mufflers
– even with the engine room hatches open.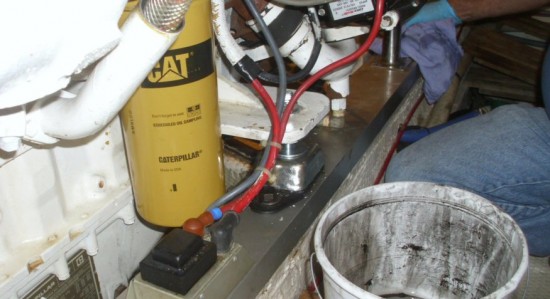 They are doing a quick oil change and then the engines will be aligned. The last step will be a
sea trial to test out all the new drive train work
on this boat.