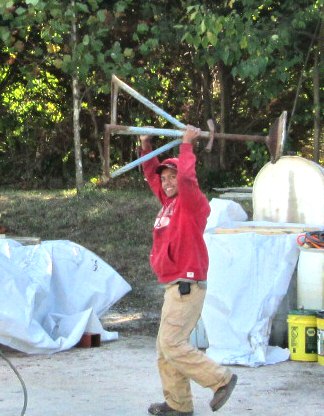 We got a couple of boats winterized yesterday and are right on schedule. I have an inkling on what is going on in Oxford now. We have a GB42 with a leaking oil cooler that needs to be replaced. This part had not been inspected for sometime and the corrosion has eaten through it causing a major water leak. Can you say "engine room inspection — I want one!) The Burger 85 has also returned for a bit more work so we were lucky to be able to start moving boats over here to Trappe to make some breathing room. Some people have given up on the season but the die-hards see this as a minor cold spell. While doing a vanity search for Oxford Yacht Agency I stumbled upon a site called abbreviations.com. They actually had us listed there under the abbreviation
OYA
. I remember when I originally set up a domain for us I chose that for our domain and John thought I was crazy (well, not just that — he thinks I'm crazy in general) but soon that's what he started using on a regular basis. You can also go to
oxfordyachtagency.com
but who wants to type all that in? I also stumbled on an article on the
Trade Only website
about one of our brokerage customers:
TODAY'S BOAT BUYER: Edward Taulbee, Grand Banks 42

Posted on 11 March 2009 Edward Taulbee lives in Lafayette, La., and his married daughter lives in Richmond, Va. He wanted a boat to cruise Chesapeake Bay with — and see his daughter more often. Taulbee, 55, who is an attorney, earlier this year upsized from a 28-foot custom aluminum offshore center console with twin 150-hp Evinrudes to a 1994 Grand Banks 42 trawler with twin Caterpillar 3208s. "My wife and I have always loved the water," says Taulbee, "and we wanted something we would be more comfortable cruising on." He bought Ezduzit in January from Oxford (Md.) Yacht Agency, and it is berthed in the Chesapeake. John Shannahan, owner of Oxford Yacht Agency, says the asking price was around $300,000, and that the boat had been kept in top condition. "Grand Banks has a long line of quality associated with them," says Taulbee, who preferred not to disclose what he paid for the boat. "We picked Oxford because they have a long history of selling Grand Banks, and John is very knowledgeable on this brand." Taulbee had researched Grand Banks for a few years and saw prices dropping with the state of the economy. He began discussions with Shannahan last fall. "I wanted to take advantage of the slow market," he says. "I figured if I waited, I could save a lot of money." Taulbee found financing easy to obtain when he began researching his options, but he declined to discuss whether he financed the vessel or not. "I can tell you it's not hard to finance a boat. It's easier than buying a house," he says. Taulbee says he is excited at the opportunity to explore the Chesapeake and see his daughter more often. "We really don't have any exposure to East Coast cruising," he says. "It'll be a new experience for us." — Elizabeth Ellis
Tomorrow may or may not be a day off, or may or may not be a half day.  It's good to keep me guessing!