Friday at last and it's already warmer out this morning than earlier in the week.  We are making up some fuel hoses for a generator this morning. We special ordered some but they sent the wrong size fittings. We should have just made them up from the start but we have so much going on we have to try to shave time on some jobs.
The surveyor found high moisture readings in the deck around the anchor platform on this Trawlercat. The owner wanted to replace it anyway so we are pulling it off to allow any moisture to evaporate out before installing the new one.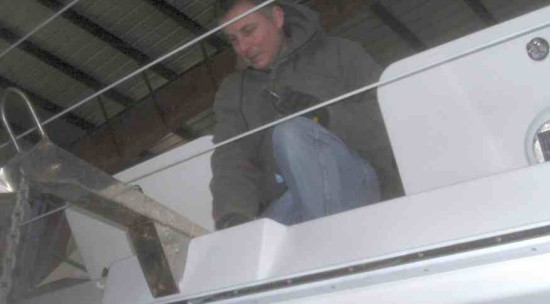 The boys love painting engines because we have to heat the engine room when doing this work — and it beats the heck out of being outside the boat in the cold.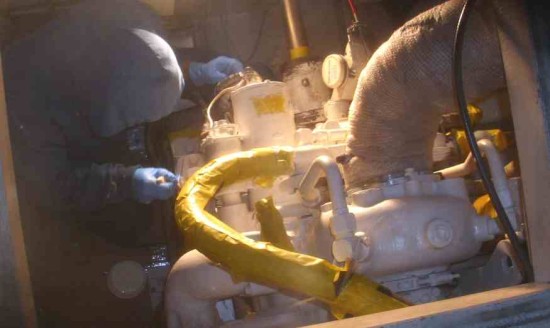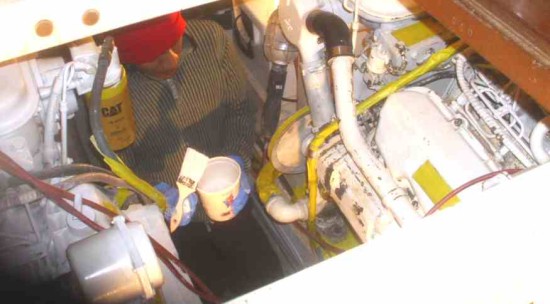 The mechanics took a road trip with John yesterday to inspect a Grand Banks 49 which wanted a 1,000 hour CAT inspection. They found the boat needed a lot more than that. One of the items they noticed was the engine mounts. This engine can't be running in alignment!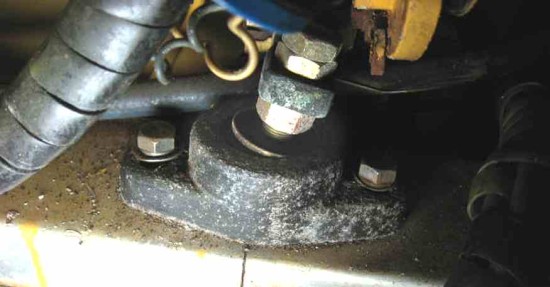 Anything Can Happen Friday
Vino On Demand: EuroCave SoWine Wine Bar
If you enjoy a glass of vino every so often, but don't care to deal with the storage (and taste effects) of uncorked wine, the EuroCave SoWine Home Wine Bar is a clever solution. Ideal for either the yacht bar or home bar, the SoWine will preserve and chill two bottles for up to 10 days, keeping them at-the-ready for a quick pour. Simply place an uncorked bottle of wine in the chamber, close the door, push down on the vacuum cylinder and set the temperature. Each chamber operates separately so you can chill red and white to their respective temperatures. Perfect for drop-in guests, a quick glass with dinner, or if you and your spouse prefer a different varietal. The SoWine can also be used as a traditional wine fridge to chill unopened bottles. Buy it at Amazon:
Wine Enthusiast EuroCave SoWine Home Wine Bar