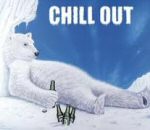 I guess time really does fly when you're having fun since it's Thursday already. With absolutely no real deadlines tomorrow it should be an un-frantic Friday. We do have more work dribbling in almost everyday – mostly smaller jobs but that's what pays the bills. Today the mechanic is off putting a new Hynautic Steering Pump in a Buddy Davis 61 – which is quite a deviation for us as we see very few Sportfishers in here. This one is docked down the creek and is just a short drive from the shop. Here in the shop, we got the Gravely started yesterday and spent some time sharpening the blades and doing a bit of other maintenance to it. It doesn't make a lot of sense this time of year to pay to have this big facility cut when we have guys that are not so busy but oh so capable.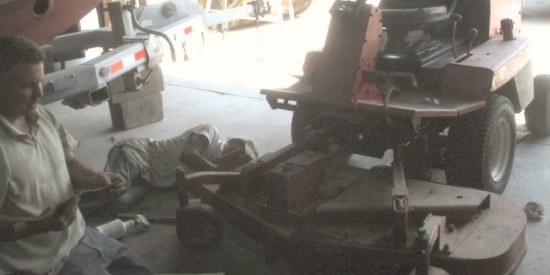 I showed you a Xantrex charger the other day. The remote panel had been back ordered but is being installed this morning. Rumsey got lucky with the fish – he stuck it through the bulkhead in the cabinet and it came out exactly where he wanted it in the engine room. That hardly ever happens – it usually gets detoured by equipment or other obstructions in the pathway. That should make the job go pretty quick.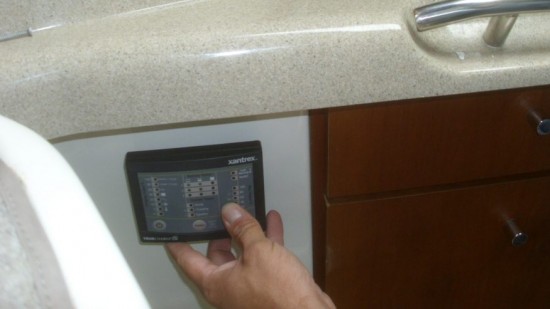 We are getting ready to do a flybridge windscreen replacement on a GB42. We may send them to our old friend Wayne Wheeler to get them cut. He has done so many that it is second nature to him. It wouldn't be so bad but if the angled edges aren't right they won't fit together properly. We have seen some where the edges were flat cut and it detracts from the look.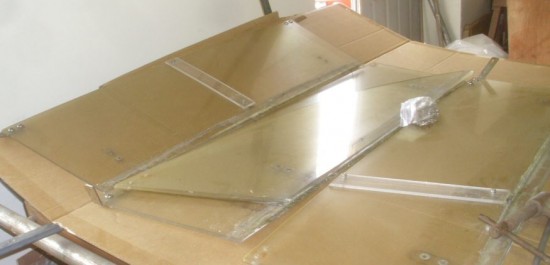 There were out there sanding the gelcoat on the decks of the Legacy yesterday and man was it dusty out there (you can see how the air looked in the photo). We decide to go with our standard Moon Dust for the decks after looking at the sample. The contrast will be more appealing and it matches the canvas on the boat.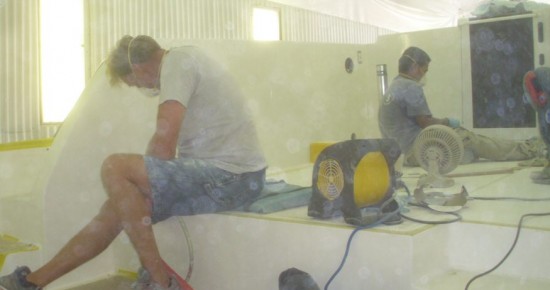 Work in progress? The cable that they were running out to the docks ended up being about 5′ too short. I wonder how that happened? John is picking up more cable this morning and hopefully we can revisit the project later this afternoon – we don't really want anyone (besides you) seeing this: