I'm a little late today as I had another visit to the chiropractor. I'm beginning to feel that this train will need to be derailed at some point. It's just too time consuming to run up to Easton several times a week — they've already set up 2 appointments for next week. We are still out on the Eastbay 49 doing cosmetic work. Kevin was taking care of most of the polishing and now has it finished — in time for the varnish work to get done. I think I've mentioned conflicting jobs before and these two are definitely conflicting.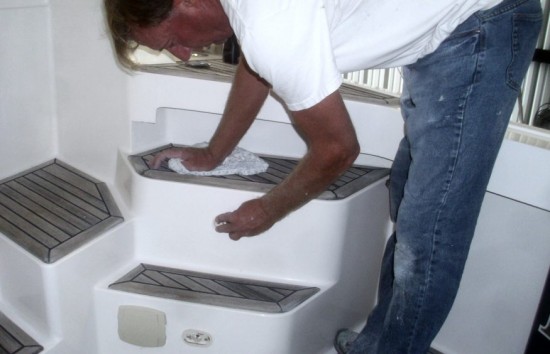 A lot of paint work has gone on in the engine room. Little arms need extensions to reach many of the places that need touching up. Here is a painting prosthetic and the user.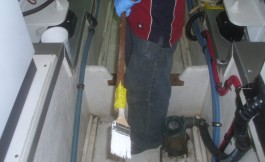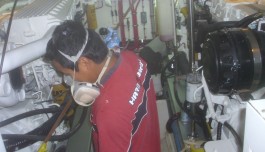 And the varnisher looked pretty happy to finally get to start on his job. Our regular guy seemed to have vanished with no indication of whether he may return or not.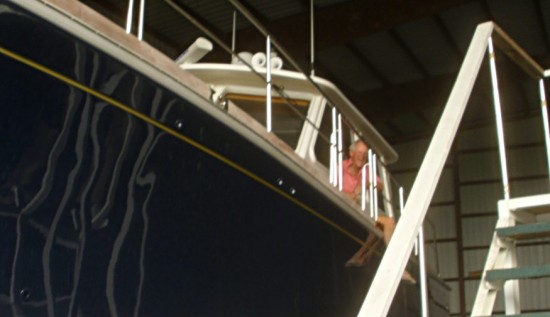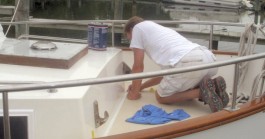 You may remember reading in this blog about a
GB32
that we did extensive upgrades to. We are listing that boat for sale as the owner decided that he just needs more boat. If you are looking at any 32's, this is the one to buy! I will give a link when the listing is done. Willy dropped by last night to have Pat do some inverter work on his new travel trailer. He is planning on heading west on Tuesday. We already feel the absence since we have 2 boats to haul today.