It seems we will be back in the 90's for a while, at least through the weekend. If you are a sailor they are predicting a serious 1 MPH wind today. Gentlemen, start your engines! We just put together a big work order yesterday on a lot of engine room work on a boat going into the brokerage department. We all know boats with sad engine rooms bring lower prices and we just can't let that happen. More on that boat after the work order is approved. The other jobs are moving along nicely with no stress of unobtainable delivery dates. The bow thruster should be wrapped up today. The final shaping was done yesterday and it was ready for some smoothing. We don't want this to look like an after-thought!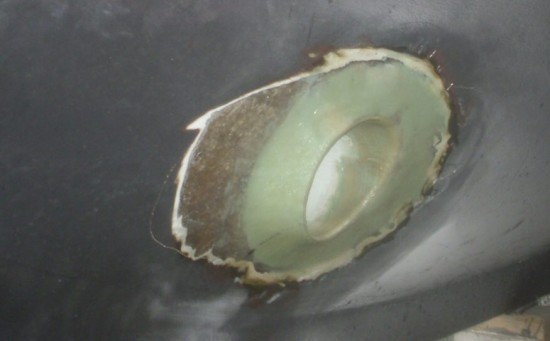 This is being filled with a thin layer of filler and sanded smooth right now and then a barrier coat will be applied before the bottom paint.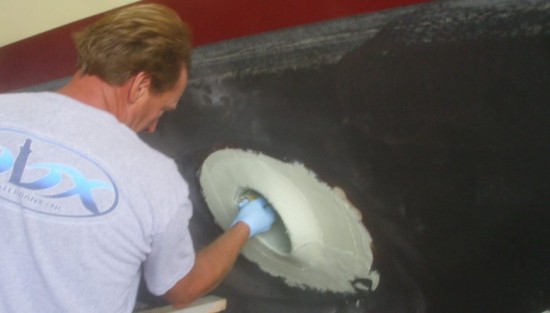 The inside is ready to make the connection. The battery switch, which will seldom be used, is tucked away in a little drop down door under the drawers since we figured nothing else would ever go in there.
Also on this boat there was flaking paint on the metal rudder and shoe. We got it down to bright metal and are priming it right now with the right primer.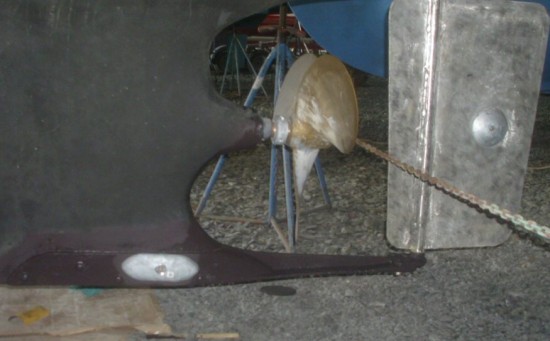 Over on the Eastbay, the bearing was removed yesterday. Fortunately it was the bearing in the strut that had swollen so we did not need to remove the shaft to get it out – thanks to the hydraulic press. We have the new bearing in the freezer and will be installing it when it shrinks enough.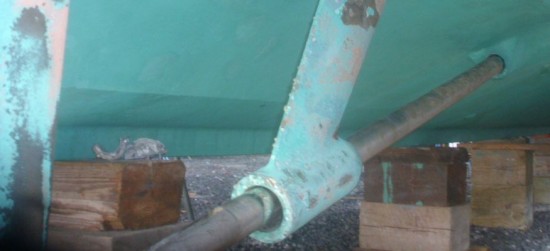 And Willy did a spectacular job with the thru-hull painting. We see this situation on lots of boats – bronze just doesn't seem to like paint. Treating it properly gives it a longer life but far from a permanent fix.

And another hauled boat gets an inspection – it's SOP.