A rainy day today and tomorrow — so a slow starting Monday became an even slower start.  We do have tons of work to do and the list keeps growing every day.  It is time for my annual introduction to the "boat promising guy".  John makes all schedules for the winter work and I do my best to get him to give everyone the attention they deserve. One job is to upgrade the electronics on the GB47. This boat like most GB's has a himalaya to house the electronics but with the cut outs from the old electronics it is hard to install the new ones.  To resolve this we order a sheet of a PVC type material from McMaster (of course) which is a flat black with slight texture which actually looks better than the white — at least more hi-tech. We have filled in the old holes with plywood to make cutting out easier.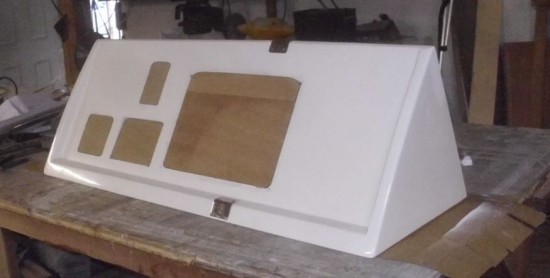 Also on this boat, we need to pull the valves out of the bottom of the fuel tank so we will be using the standard vacuum cleaner trick. Just don't forget to block off the vent or you'll never get a suction going!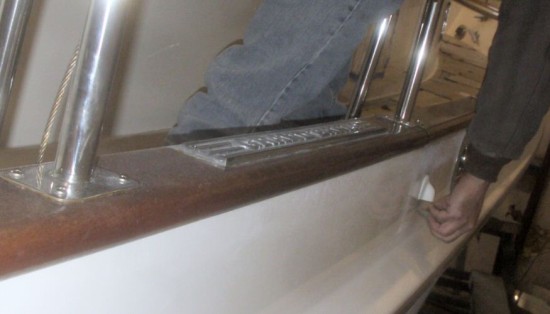 Kevin is starting on the Legacy repair today. He did have to go up inside the boat to figure out how to get the toe rail off since just a bit of the damage goes underneath that. The metal fabricator has the rails and is apparently making a new radar arch. I did notice there is some sort of finish on the swim platform. We always recommend letting them weather naturally. They are too close to the water to maintain or to keep looking nice. An occasional cleaning with a non-abrasive cleaner will go a long way!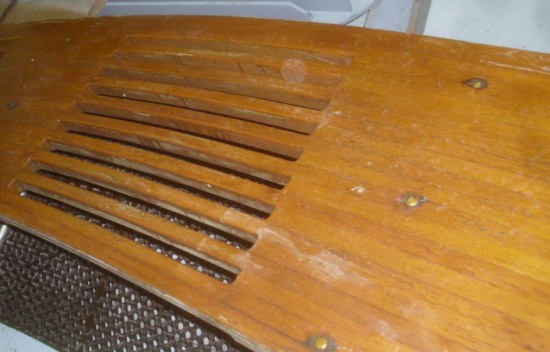 We had a customer in on Friday who freely admitted that he didn't make mistakes. When I asked if I could cite this here he said as long as I used his full name. I just couldn't bring myself to do that Stephen. 
I thought I was wrong once but I was mistaken.