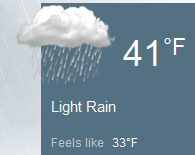 We came through the storm unscathed – no boats damaged, no power outages, no extreme high tides. I saw a few limbs down on my way to work but no trees down here in town.  I know we just got lucky (again) but we are all thankful. Yesterday John and the other 2 guys went to Oxford to check on things and then disappeared.  I just forgot to come back after  lunch time since I wasn't going to sit here by myself 
in the middle of a freakin' hurricane
. As is is indicated by the weather icon to the left, you may guess I have my little heater on under my desk! Once again, only 2 guys showed up for work, but they are different than the 2 that showed up yesterday — I guess they are rotating shifts? I
was
wrong yesterday about not hauling any boats in the middle of the hurricane conditions: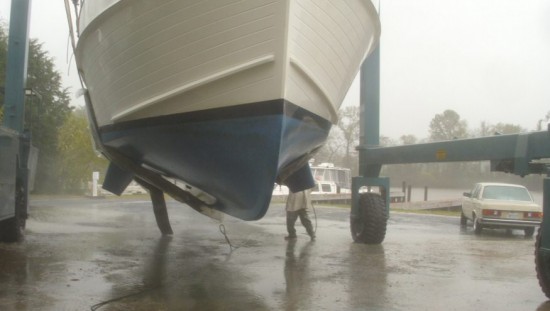 The following content  is provided by John:
Joe:
Thanks for your kind thoughts about if I am safe.I did enjoy the ride on the Choptank yesterday from Denton. I think you would have as well. That little boat really goes and handles very well at speed. I had forgotten she is a high performance performer for a boat of her type.After getting her situated carefully I actually went out again alone but this time to Annapolis last night and brought back LaNostra leaving Annapolis about 8:30 PM. It was very windy on the Bay. The LaNostra has Stabilizers so the ride was very comfortable. I got back to Trappe around 11. She was in a protected place there but not the right place once the wind would have shifted top the WNW at 35.
Our day was otherwise uneventful and breezy.. At the moment all is well here in Trappe. I stayed late until the Hurricane passed our Lat Lon position and headed away at 30 mph. Fortunately I lost no trees and none obstructed my way home!
Where Due Diligence is located,in the " Lee" of our building the winds were in the 15 mph range. Now they have shifted to the WNW from NE and dropped considerably. At my house at the mouth of Boone Creek we were seeing 50-70 mph gusts with 45 sustained winds for about six hours! This however is at a very exposed location on the CHoptank. Some gusts on the Bay Bridge were recorded at 80 mph but this is at an altitude of 250′
We will see the wind shift to the SW by morning and be reduced further as the new front approaches. This is the front being driven by some very high pressure air and cold temperatures stretching all the way to teh Dakotas! This will keep the tide from making a  drastic a drop as it would do normally after such a storm. On Wed I will put the canvas back on and take her back to your house. 
So far I can only find a small paint spot on the stb side aft to touch up. This we can do Wed before she goes.
I hope you guys are as comfortable and won't get hit too hard by this unusual late storm. 
John
Pictures to follow?
Poll
– I am often accused of being a bit cavalier in the blog. Let me know if you agree.
[poll id='2']