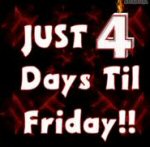 It's always
tough to come back after a 3 day weekend
. The only bright side is that there is another of those this weekend! Of course, there is a chance of thunderstorms every day from now through the weekend. That's spring for you.  As for my birthday, it was a great day as I went to town and bought myself presents and spent the afternoon in my workshop with a steady stream of cold beer. The varnish crew was obviously busy this weekend as a lot of taping was done this morning. Since each coat has to allow for drying time, it is good that they have
several boats side by side to work on simultaneously
.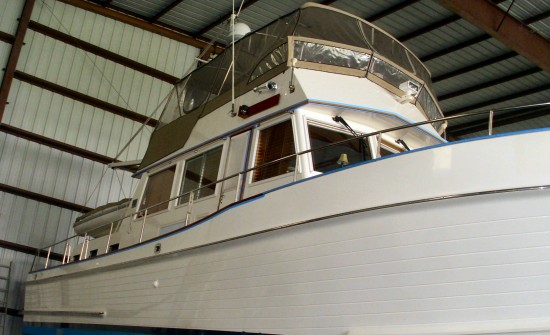 The Island Packet that is under contract is going to sea trial so we moved that out to the travel lift slip. This is a sweet little boat and I'm surprised it did not sell sooner. All of a sudden there was a lot of activity – especially
after we had already taken an offer
.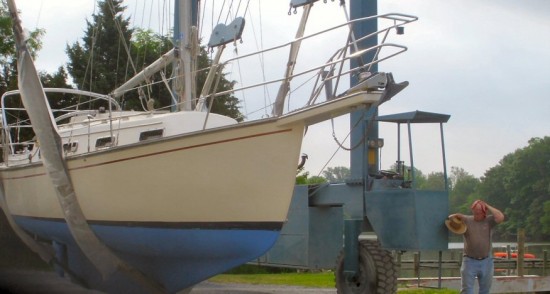 The muffler job would not be complete without changing the
20 year old exhaust hose
.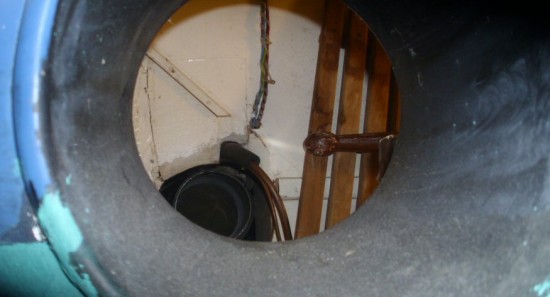 As usually happens though, we found a slight problem – the bulkhead where the hose entered the lazarette was a bit rotten. What caused the investigation was the fiberglass lifting from the plywood. Since the plywood was rotten, it
would not hold the glass any longer
. Fortunately it is not that hard of a fix and the access is pretty good with the hose out.