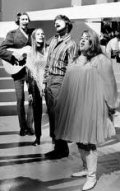 We got through another Frantic Friday last week. It seems like some things get put off until the last minute
just to keep us on our toes
(maybe!) They were still launching boats when I left Friday evening but I heard  the wild call of the
Moosehead
from the vicinity of  my house and headed home to tend to that. That call seemed to persist through the weekend and with plenty of honey-do's for Mother's Day I was glad the weather held despite the forecast for less than optimal conditions on Sunday. I did finally get around to fixing the
Tide Table function
on our site even though it has not worked for a few months, I kept forgetting. If you are planning to bring in a sailboat or pick one up, you can always get
current tide information
now.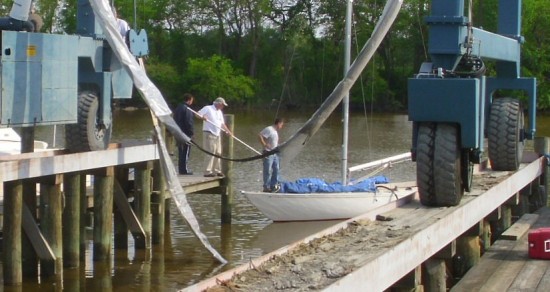 One of the first jobs today was prep for barrier coat on one of the boats we had soda blasted a few weeks ago. We are filling all the little pin holes and voids to ensure we end up with a
very smooth bottom
. For this we are using 3M High Strength Filler which is applied just like body putty but has much better properties for ensuring a bottom with integrity.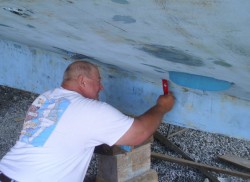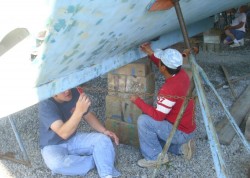 We also have plenty of polishing left to do. We had one smaller boat to do this morning and then Carlos will jump on the GB36 above to get that hull and superstructure hopefully
looking like a new boat
.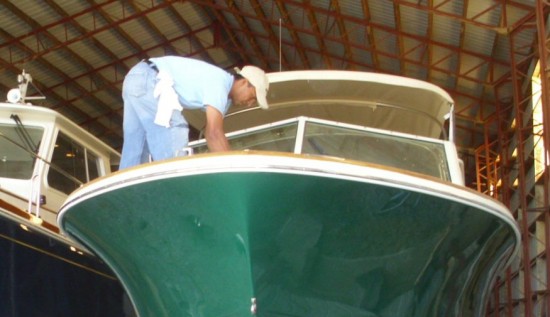 We will also be starting another bow thruster installation today and although I have had a lot of those here in the blog, you will be forced to watch another one
because I need content daily
. If you just haven't enough reading yet (
you are just sitting at your desk aren't you?
) I found
this interesting story
about someone buying a boat with less that satisfactory results which should make you more savvy the next time you are looking to upgrade. While you are at it, take a moment to cast your vote for the
Best Yachting Town
at the Yachting Magazine Website. (Hint: you should choose Oxford since Trappe is not on the ballot!)