Very, very late posting today – I had to run into Easton to have some fire extinguishers tagged. It was  a very nice day  for a drive though – and I had my coffee and the music was loud. After a bit of rain on Saturday the weather took a good turn for the better and I actually had to break out the shorts. And that continues on today. The only bad part of this season is the pollen factor.
Because we had a delivery today and the boat was ready on Friday, we had to go out and de-pollen the boat this morning (again). If you clean a boat too early, you have to do it again but if you wait until the last minute you are likely to miss things.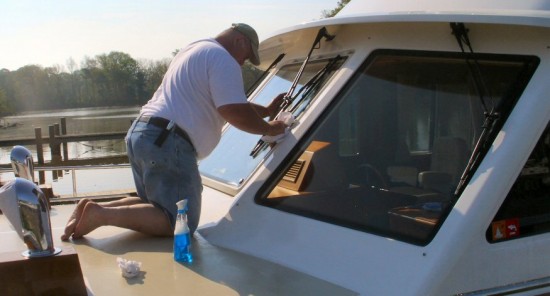 I haven't even had time to investigate what's going on in the yard yet, but on Friday Kevin had finally gotten around to spraying the bottom I showed last week. He was still spraying when I left late on Friday and I don't know how may coats it took, but it was more than two. To get bottom paint to spray though our guns you have to thin it down quite smartly.