Rumors have it that we are
expecting a high of 80 degrees
today. Should that occur, I may disappear at some point during the day to actually enjoy it.  And speaking of weather, the
2011 hurricane predictions
were released last week. It doesn't look all that good, but these are only predictions – not facts.  Just remember, we have a pretty hurricane-safe harbor down here at Dickerson and if things look real bad we have these large buildings that are essentially empty in the summer time. Friday was a pretty dismal day and some folks were
just not dressed appropriately
.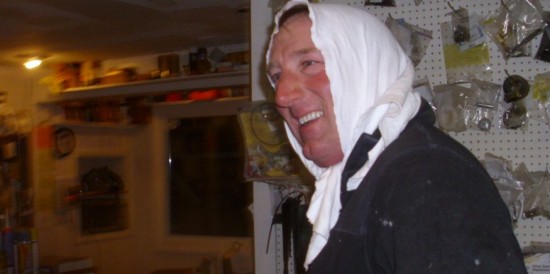 It is hard to catch interesting work early in the day. The bottom painting crew is just setting up with tarps to catch the paint prep debris.
Even if it were not an EPA rule
, we would use the tarps any way to keep our facility as clean as possible..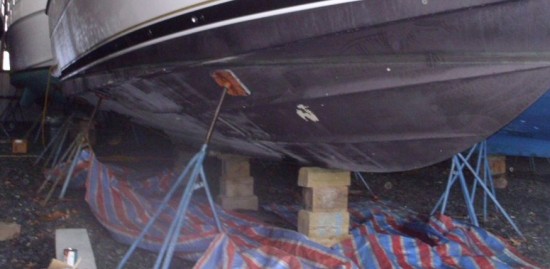 Areas like those below must be scraped back to a solid surface and then feathered in. We usually throw a bit of Pettit Tie Coat in to ensure everything bonds properly. (I may have mentioned this recently as I am getting a strong
Deja Vu
off this post).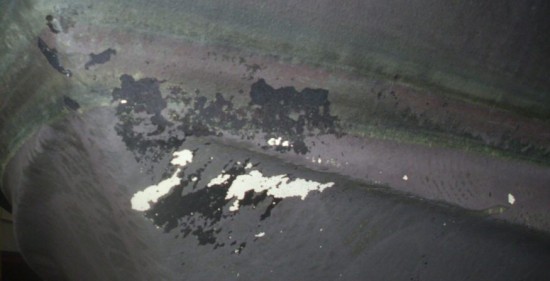 Carlos is wrapping up his engine painting. As far as detail goes, this picture doesn't reveal much but I really like the lighting 🙂
We also have several boats at the docks being commissioned. Of primary importance is flushing out the anti freeze from the water system. This needs to be done
before reconnecting the water heater
so you don't pump the pink into it. It takes forever to get the taste out if you don't.