We had an unexpected rainy day yesterday but it is bright and sunny this morning. We are starting off the day getting a boat out of the building to get launched later today.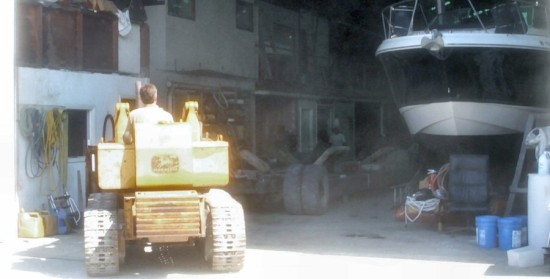 There are a lot of electronics coming in later in the day, so we are dismantling the old stuff to get ready.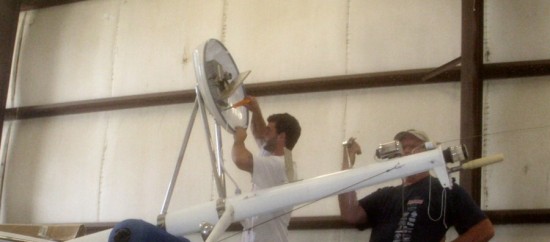 Friday was  a bit hectic (duh!) One of the tasks was to clean off the point. I heard a rumor that the Burger 85 may be coming in here to get the new hardtop put on – unsubstantiated of course. I would love to see the boat and the only way I'll get to is if it comes here. As we know, I stay out of Oxford most of the time.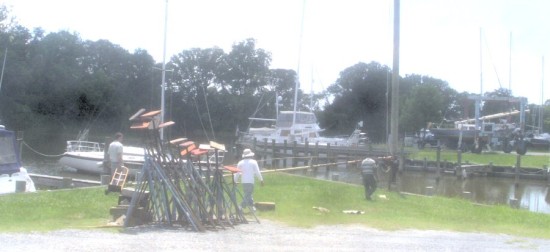 The new swim platform brackets came in for the Motoryacht. These are a major deviation from your normal GB swim platform brackets. The stainless is actually cheaper than the standard bronze brackets. Some people may like the curves.
Tom ended up staying here until the wee hours on Friday night installing a high pressure vapor pump on a Suzuki engine — under duress of course. I stayed until I ran out of beer and then went home where the pickings were a little better.  The engine is a 2008 and evidently has not seen much service since it left the dealer.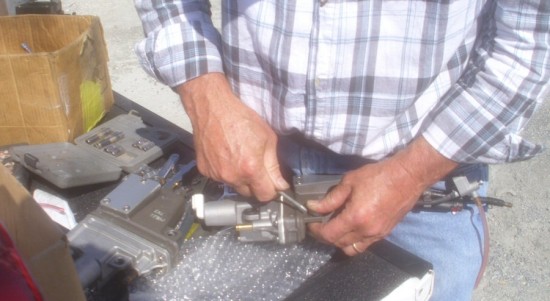 We do
occasionally
work on sailboats. This one needs a rudder repair and the preliminary grinding has been done in preparation.