It's shaping up to be a beautiful spring like week. It's a little overcast now but it should burn off later. Kevin is involved with paint work today – he got the new Awlgrip metal primer on the boom he was working on Friday.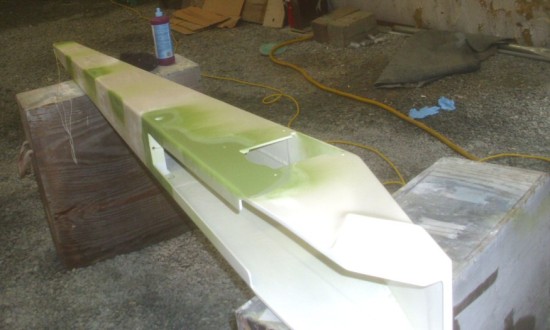 He was hanging some parts from the 47 up to spray this morning. We try to put off doing small parts until we have enough to justify the time to mix paint and clean up the equipment. 3 seems to be the magic number (notice the spotlight bracket in the center).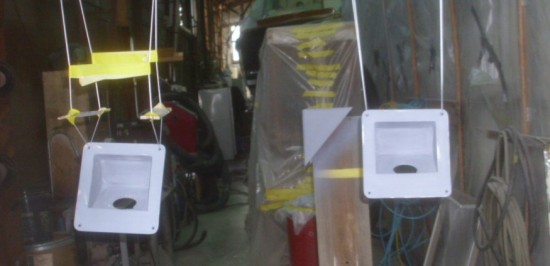 The owner who got the custom seat just came back from overseas and finally got to try it out. (I couldn't get him to smile for the photo but he did love the seat!)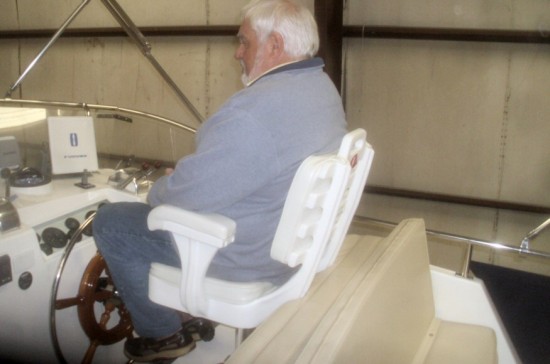 I had showed some rust air conditioning pans. The cost for us to clean those up and repaint cost more than getting custom aluminum pans made. My son made these at a very reasonable price. If you  need one (or two) contact me and I'll get you in touch with him. The drain hole is welded on and much closer to the bottom that the original so not as much water can sit in these.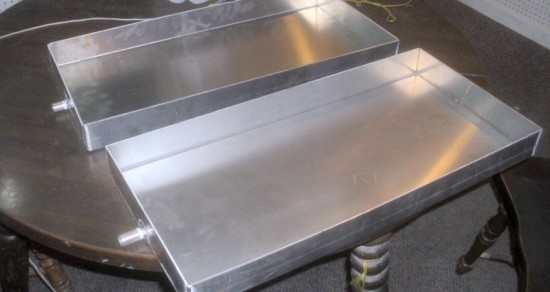 We found a fuel leak on the injectors of a generator during commissioning of a boat last week. If you look at this you will see unusual bolt heads. These 5 sided bolts take a special tool that injection shops usually have. We will just take the pump to the shop to have it repaired since we don't have the tool.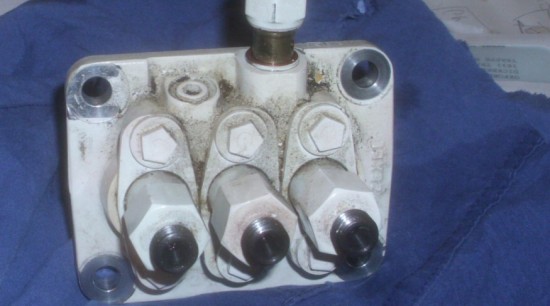 We have been chasing a vibration in an engine for a while now and have narrowed it down to a bad harmonic balancer. These are fluid filled and if you look closely at the picture you can see a bit of fluid has been slung out. Our plan is to swap them from one engine to the other to ensure that is the problem.
The harmonic balancer, which is also known as a harmonic damper, is essential to the longevity of an engine since it prevents crankshaft failure. It is usually mounted at the front end of the crankshaft in order to absorb and dissipate the majority of the vibration energy. It consists of the hub, an outer weight ring, and a sandwiched layer of flexible rubber. It is the rubber that absorbs the energy of the vibrating crankshaft in the form of heat, damping the amount of vibration to within safe limits.