It was hard to drag my butt in here on a Monday morning after a fairly productive weekend in my home shop and with the time change but here I am nonetheless. My body never seems to make the change dealing with daylight savings time so most of the winter I am waking up about 5 in the morning. At least now I can sleep til 6! You may be surprised by my new very short hair cut. I like to minimize the trips and get my money's worth! Our first departure occurred over the weekend and Friday was a rush to get the first boat of the season done and commissioned for a long journey. The last coat of varnish went on after most of the people were off the boat.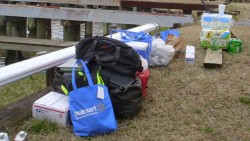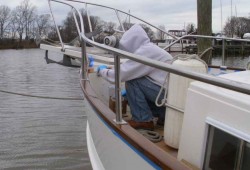 I did manage to get up on a boat this morning. This one had steps and not a ladder and since I use steps at home I decided to take the giant step. There are two projects going on. We had done the sliding windows in the main cabin and now are tackling the rest of the windows. It seems like all I have to post lately is window pictures! In these photos we are doing "bung exposure" and frame removal.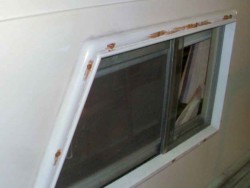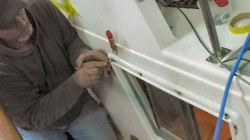 I understand we
may
also be doing muffler upgrade work down in the aft cabin but I was still a little hesitant to go down in there – may later this week. I did see a muffler on the aft deck.